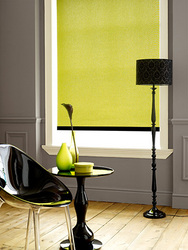 Tuiss.co.uk is unique to the UK offering affordable luxury blinds and strong environmental ethics.
(PRWEB) December 16, 2009
Tuiss.co.uk, a new online window blinds retailer, announces the launch of their brand new website.
Tuiss.co.uk is unique to the UK offering affordable luxury and strong environmental ethics. Their blinds are manufactured from the very finest materials in the latest designs which are made from recyclable components sourced from environmentally responsible suppliers. Furthermore, Tuiss uses recyclable paper and packaging for all its products and samples and encourages all their clients to reuse or recycle.
Covetable yet affordable, every single Tuiss blind is beautifully made to measure in the UK with care and attention to detail and in addition they provide an exceptional customer and sampling service.
"Nobody as far as we could see was designing beautiful blinds, displaying them on an equally beautiful and friendly website and selling them at affordable prices. What's more we believed that the blind industry were behind other industries in taking up the green mantle. As a result Tuiss and our three touchstones: 'Affordable Luxury', 'Greener by Nature' and 'Better by Design' were born," says Mark Bramley, Tuiss's Managing Director.
The Tuiss Green Team reviews all aspects of their operations working with bodies such as the Carbon Trust and envirowise to make sure that their business is as responsible as it can be whilst also ensuring every single blind is made with care and designed with an obsession to detail.
Indulge your home and be kinder to our world. Join Tuiss in working towards a greener future.
Prices start from just £21.66 for venetian blinds, £22.53 for roller blinds, £25.17 for wooden blinds and £44.95 for roman blinds all made to measure in the UK from tuiss.co.uk.
###