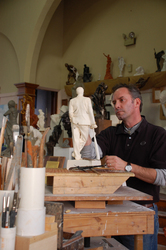 Harry gave a lot to the fans of Philadelphia," says Nowlan. "We want to give something back.
Phoenixville, PA (PRWEB) December 15, 2009
Last week, after announcing plans to fund and build a permanent monument to the beloved Philadelphia Phillies' broadcaster, Harry Kalas, the movement has gained significant ground. Harry Kalas, whose Hall of Fame baritone voice was silenced on April 13, 2009, touched the lives of millions of Philadelphians for nearly forty years as the play-by-play voice of the 2008 World Series Champions.
On November 26, the non-profit group, Dear Harry, Inc., released an official announcement that they would begin collecting donations to create an original, larger-than-life-sized monument that, upon completion, would be gifted to the Philadelphia Phillies. Since then the effort has spread throughout the region, gathering more interest and garnering an impressive amount of support.
The launch of a donation collecting web site, http://www.harrykalasstatue.com, and promotions in regional press and on numerous blogs has given the people behind the Kalas memorial hope that this project will get done sooner rather than later.
"It's important that this is fan funded," says Todd Palmer, whose advertising agency Virtual Farm Creative, Inc., Phoenixville, PA, is donating promotional support for the effort. "There were all kinds of fans of Harry– those that can give $10 and those that can give $10,000."
Hoping to attract larger contributors, the sculptor for the memorial, Lawrence Nowlan will be visiting local media this week with photos of the sculpture's progress.
Nowlan, a Philadelphia native with a studio in Windsor, Vermont, is one of finest figurative bronze sculptors working today and is often on the short list for commissioned memorial sculptures. Most recently the artist created a heroically sized action scene of Nile Kinnick for the University of Iowa, a larger than life Ralph Cramden installed in New York City's Port Authority, and a series of intricately detailed bas-relief sculptures commemorating winemakers at the Culinary Institute of America's Vintners Hall of Fame.
Nowlan is a lifelong Philadelphia sports fan who, like the other members contributing time and effort to Dear Harry, Inc., grew up with Kalas calling Phillies games.
"No artist is more fitting for this task," adds Suzanne Norris who first encouraged Nowlan to take up challenge of not just sculpting the statue, but also building the support to secure enough financing.
The vision for this project is to raise enough money (as much as $80,000) to fund the development of an original and permanent, seven-foot tall bronze likeness of Kalas.
"We've raised more than $15,000 in online and in-kind donations," says Greg Veith, counsel for the group. "Our applications are still being processed, but once Dear Harry, Inc. is an official 501(c)3, many corporate contributions can be secured as can matching gifts from their employees. We're expecting a surge when we become official," adds Veith.
The first wave of contributions denotes a major milestone, allowing the model to be enlarged to seven feet in early January by Laran Bronze in Chester, Pennsylvania, one of the country's premier art casting foundries who previously cast several of Nowlan's monuments.
Originally sparked by overwhelming response to a Facebook petition that now includes more than 20,000 signatures, Dear Harry, Inc. is depending on the many thousands of Kalas fans to take the statue to the next phase.
"Harry gave a lot to the fans of Philadelphia," says Nowlan. "We want to give something back."
Nowlan will be in Philadelphia this week to promote the Kalas statue. On Wednesday, December 16 from 5:00pm to 6:00pm the artist will be on Comcast Sports Network's Daily News Live and, on Thursday, December 17 on WIP with Angelo Cataldi & The Morning Team from 9:00am to 10:00am. Earlier in the month Nowlan conducted compelling phone interviews with WIP and WDEL.
To make a contribution to Dear Harry, Inc., visit the web site devoted to the promotion of a "Harry the K" monument at http://www.harrykalasstatue.com or contact Nowlan directly directly at 802-674-2222.
###