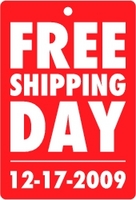 Free Shipping Day is Thursday, December 17, 2009.
Ft. Collins, Col. (PRWEB) December 15, 2009
For most of us, the frenzied schedules that confront us in December lead to unfinished shopping lists with little time to spare. Holiday shopping procrastinators have a day designed especially for them. Free Shipping Day is a reward for people who wait until the last minute to cross those final gifts off their list.
Set for Thursday, December 17, Free Shipping Day is a one day shopping event when participating merchants offer free shipping to their customers with delivery by Christmas Eve. More than 600 retailers have already signed up to participate, eclipsing last year's final tally of 250.
"We are a nation of procrastinators, especially during the holiday season, thus the reason Free Shipping Day has so much appeal," said Luke Knowles, who created the event last year. "The event is ideal for retailers because it extends the online holiday shopping season and gives them exposure to new customers. Free Shipping Day is perfect for consumers because it gives them a chance to finish their shopping online and still get great deals."
"Experience indicates that many consumers wait until the last second to cross off their lists, and numbers show that online shopping dramatically slows after December 12th," Knowles said. "Free Shipping Day encourages people to continue buying items online later into the month of December.
Knowles - who created FreeShipping.org with his wife, Maisie, in 2007, hatched the idea for Free Shipping Day just two weeks before the event last December. In an abrupt brainstorm, he thought that retailers would relish the opportunity to extend the online holiday shopping season, which typically peaks in early December because consumers are concerned about their gift orders arriving to their intended destination in time for Christmas.
Knowles expected a favorable response from retailers and consumers last year, but he didn't anticipate the overwhelming interest that the event actually received. Free Shipping Day attracted more than 250 merchants and the FreeShippingDay.com web site saw 250,000 hits in a 10-day period, including 100,000 on the actual day itself.
"This year, we have had all year to prepare for Free Shipping Day," Knowles said. "Retailers had a good experience because of all the traffic and sales they received during last year's Free Shipping Day, and more exposure leads to more interest from retailers. This ultimately benefits consumers since they have a wide selection of retailers to choose from."
Free Shipping Day is a one day online shopping event on Dec. 17, when participating merchants offer free shipping to their customers with guaranteed delivery by Christmas. Participating merchants include Toys R Us, JCPenney, Apple Store, Nike, Sears, Babies R Us, Eddie Bauer, PacSun, Ralph Lauren and Adidas. For more information, visit http://www.freeshippingday.com.
# # #