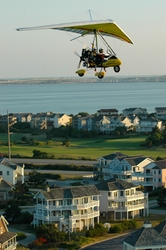 "We had so much fun doing this and raised more money than ever before."
Nags Head, NC (PRWEB) December 16, 2009
The money is raised through such things as silent auctions, raffles and a Wii-game bowling tournament, said Emily Lewis, who oversees the contests. "In the past, we adopted eight families," she said.
And because Village Realty matches all money raised dollar for dollar, their grand total for needy families was $5,068.10.
Maslin Seal, a sales technology technician for the company, was the first winner.
In the silent auction held by the accounting department, she bid $320 for a two-night stay at one of the companies' Ocracoke Island vacation rental homes,Beach Therapy, owned by Nags Head Mayor Bob Oakes, the president of Village Realty.
Seal can't wait to enjoy her prize. "It was very exciting," she said. "My daughter Skyler wants to go for New Year's Eve and that would be cool."
Seal admitted the $300 she used for the bidding came from her mother as a Christmas present. When the bids shot straight up to $300 in the first hour, she thought she wouldn't get it.
But then, Seal had an idea.
"Well I can pitch in twenty bucks of my own." It was all Seal needed to seal the deal on this popular, pet-friendly, two bedroom Ocracoke jewel.
Another contest will send Beth Tillson sky high. She was the winner of the association management department's ultra-light flight for two.
"Beth and friend will take a once in a lifetime flight to see the Outer Banks from a bird's eye view," Lewis said.
But wait, there's much, much more.
In the web services' silent auction, Sue Hawley and Bill Kobernick won a weekend stay in a three bedroom vacation home in Deep Creek Lake, Md. , donated by Taylor Made Deep Creek Vacations.
Deep Creek Lake has a multitude of activities for every taste from the super adventurer to the king of relaxation. There's biking, hiking, golf, skiing and snowboarding. Village Realty sent them gift certificates for free stays on the Outer Banks in return.
Additional contests winners were: Courtney Fowler won Jackie's shoe auction with $50; Kim Murray won the guest operation's grill raffle, which raised $460; Bettie Blanchard walked away with $500 in the sales department 50/50 raffle; Matt Parks was the champion of the Wii Bowling Tournament that raised $125; Dave Wigginton donated $100 and the Chinese auction at the Corolla office brought in $280.
A host of Corolla businesses made donations to the auction.
Lewis said she's pleased with the amount of money Village Realty raised for charity this year and said they hope they raise even more money next year.
###