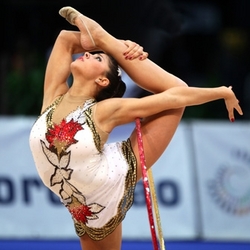 Los Angeles, CA (Vocus) December 17, 2009
The L.A Lights Tournament of Champions announced today that 2-time US World Team member, Julie Zetlin, will compete at this years competition.
Julie Zetlin, Rhythmic Gymnast from Bethesda, is a 2-time US World Team member, a 2009 World Cup Finalist, the Pam American Silver medalist in ribbon and is currently ranked 3rd on the United States National Team. Poised as a top contender for the 2012 Olympic Games, Ms. Zetlin will be greeting fans at the LA Lights Invitation Reception on January 21, 2010. Taking place at the Radisson Hotel, 6161 W. Centinela Ave., Culver City, CA, the reception will kick-off three days of competition.
The 2010 LA Lights Tournament will bring competitors and Olympians from around the nation including the Ukraine National Team and Team BelaRus, 2008 Olympic bronze metal winners. Sponsored by the Los Angeles School of Gymnastics, LA Lights is the largest multi-level rhythmic gymnastic competition in the world, setting higher standards every year. An Olympic training center, Los Angeles School of Gymnastics has been working with young athletes since 1975. Led by Alla Svirsky, USA Olympic & National Coach, four-time USA Gymnastics Coach of the Year and Inductee to the Gymnastics Hall of Fame, the center has provided thousands of young athletes with quality gymnastics instruction and has produced three U.S. Olympians and hundreds of internationally ranked athletes.
Media Contact Info:
For more information please contact Tricia Kent at (772) 633-8337 or tricia(at)avalon-comm(dot)com. For more information, visit http://www.lalightsmeet.com.
###