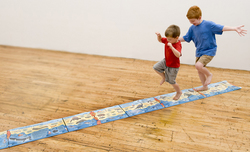 The kids who hear about evolution in church today will grow into much better informed adults tomorrow. We can't wait!
Pawtucket, RI (PRWEB) December 14, 2009
Charlie's Playhouse and The Clergy Letter Project are delighted to announce a new program to help clergy across the country weave evolution into their sermons and children's programming. Charlie's Playhouse, maker of the first-ever games and toys that introduce kids to evolution, is offering its flagship product, the Giant Evolution Timeline, for free to clergy who are participating in "Evolution Weekend 2010," the fifth annual celebration of evolution in churches, synagogues and mosques around the world.
"Evolution Weekend" encourages clergy to address their congregations about evolution each February on Darwin Day, the anniversary of the British scientist's birth. The event is coordinated by The Clergy Letter Project, which advocates for the compatibility of evolution and religious belief, and motivates clergy to active support of science.
Michael Zimmerman, founder and director of The Clergy Project, praised Charlie's Playhouse for its innovative products as well as for its willingness to partner with clergy members, saying that "Reaching out in this manner increases the likelihood that children will learn the basics of first-rate science while appreciating the value of religion."
Kate Miller, President of Charlie's Playhouse, believes the collaboration will pave the way for better understanding of evolution in the future. "So much of the public skepticism of evolution is driven by misguided religious opposition," said Miller, "The kids who hear about evolution in church today will grow into much better informed adults tomorrow. We can't wait!" The award-winning RI-based company specializes in fun, physical, and intuitive presentations of evolution to kids aged four through ten.
Interested clergy should contact Michael Zimmerman at The Clergy Letter Project via email (mz (at) butler (dot) edu.)
About The Giant Evolution Timeline:
http://www.charliesplayhouse.com/giant-evolution-timeline.php
This colorfully illustrated, oversized mat tells the story of 600 million years of the evolution of life. Illustrations include 67 ancient creatures from the fossil record, fun "comments" from each animal, explanations of evolution from "Charlie" Darwin, footsteps for kids to follow at forty million years per step, and more. The Activity Guide includes kid-tested games and activities such as running and skipping games, memory games, artistic challenges and adaptations of classics such as hopscotch and telephone. The Mat unfolds to a full 18 feet, yet collapses to a manageable book-like format for easy storage. This unique product was developed with educators for age-appropriateness and scientists for scientific accuracy. Retail price: $49.
About Charlie's Playhouse
http://www.charliesplayhouse.com
Rhode Island-based Charlie's Playhouse LLC makes the first-ever games and toys that teach children about evolution, natural selection and Charles Darwin. The company was founded by scientist and mom Kate Miller, PhD, after she was unable to find fun, educational products for her two young sons that addressed evolution.
Dr. Miller is a consultant to the Evolution Readiness Project at Concord Consortium in Concord, MA. Funded by the National Science Foundation, the project is creating a computer-based curriculum to teach fourth graders about evolution, to be tested in a dozen schools in MA, TX and MO.
Note: Kate Miller is not related to Kenneth R. Miller, Brown University Professor of Biology, also based in Providence, RI.
About The Clergy Letter Project
http://www.theclergyletterproject.org/
The Clergy Letter Project is designed to demonstrate that religion and science can be compatible, and to elevate the quality of the debate of this issue. The Project was founded in 2004 by Michael Zimmerman, Professor of Biology at Butler University.
Clergy Letter Project activities include collecting clergy signatures on open letters in support of the theory of evolution, sponsoring the annual "Evolution Weekend" event, and maintaining a database of scientists interested in working with clergy members to answer questions about all aspects of evolution.
###