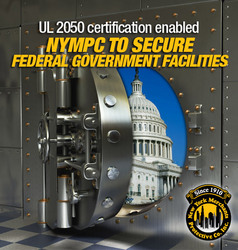 The UL 2050 designation is a proud accolade for NYMPC, but it's also a testament to the exceptional standards we've been upholding for years.
Freeport, NY (PRWEB) December 16, 2009
For New York Merchants Protective Co., Inc., monitoring some of the nation's most important government facilities is simply "business as usual."
 
16 months after it was first designated as a National Industrial Monitoring Center by Underwriters Laboratories and again in September by Edison Testing Laboratories, NYMPC continues to uphold the highest operational and training standards in the industry.
 
In 2008, the company was only the third ever to receive the UL 2050 certification, which enables NYMPC to install and monitor alarm systems for the U.S. federal government. But while other central stations today are struggling to meet the stringent criteria required for the certification, NYMPC is maintaining the same standards it has for decades.
"New York Merchants Protective has always been committed to employing the most up-to-date technology, maintaining above-average security standards, and coordinating rigorous ongoing training for all its personnel," says Aaron Wahrsager, Vice President of monitoring operations for NYMPC. "The UL 2050 designation is a proud accolade for NYMPC, but it's also a testament to the exceptional standards we've been upholding for years."
 
NYMPC is listed by UL and ETL for Commercial Burglar Alarm installation and monitoring, and Protective Signaling (fire alarm monitoring). The UL 2050 designation indicates that NYMPC has met an additional set of strict requirements and that it has personnel on duty who are specially trained to handle signals received from National Industrial Security Systems – systems used by the United States Department of Defense and other high-level government agencies.
 
Many monitoring stations who seek the UL 2050 are finding that it is not viable or worth the expense to implement new training programs and procedures to meet the requirements. For most security companies, discovering clients who require the National Industrial certificate is rare and difficult. NYMPC, however, has been safeguarding highly secure facilities since 1910, has been serving many federal, state, and city municipal agencies throughout the United States for decades.
 
Underwriters Laboratories provides the National Industrial certification program so that government agencies can quickly identify security contractors who possess the highest levels of quality assurance and system reliability. Organizations such as the United States Department of the Treasury can select NYMPC knowing that the monitoring will be set up and maintained in accordance with nationally recognized UL and ETL standards, as well as the National Industrial Security Program Operating Guidelines.
 
"As more monitoring companies work to earn the UL 2050 designation, our U.S. government agencies have an important question to ask," says Wahrsager. "Do they want the nation's most classified materials monitored by a company that only recently implemented the means to do it? Or do they want to be protected by an experienced company that's already been doing it for years?"
About New York Merchants Protective Co., Inc.
New York Merchants Protective Co., Inc. installs, services and monitors security and fire systems for over 75,000 locations nationwide and has been doing so since 1910. Protecting over $100 BILLION in property and assets, Approved by ETL and Underwriters Laboratories (UL) and holding the coveted listing for National Industrial Monitoring and Certified as a "Five Diamond Central Station" by the Central Station Alarm Association, NYMPC is ranked as the 32nd largest security company in the United States by SDM Magazine (May 2009).
Comprehensive services include 24/7 customized monitoring, closed-circuit TV systems, remote video and environmental control monitoring, wireless medical alarms and industrial process monitoring, among many others. NYMPC's fire alarm system capabilities include a wide range of services including advanced fire detection, manual pull stations, sprinkler water flow and tamper devices, as well as voice evacuation systems.
For more information on NYMPC or any of its services, call 1-888-NYMP-911 or visit http://www.nympc.com.
###