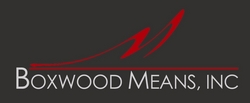 "In short, our new tools bring the small-cap real estate market into sharper focus for clients."
Stamford, CT (PRWEB) December 16, 2009
Boxwood Means, Inc., a leading research authority on U.S. small commercial property and loan markets, today launched its new subscription-based web site, SmallBalance.com. SmallBalance.com delivers wholly new data and analytics on the U.S. small-cap real estate market in support of heightened risk management and valuation activities among commercial banks.
Given the immediate challenges of lenders and investors in assessing the quality of loan collateral in their portfolios as delinquencies rise and CRE market values continue to fall, the arrival of SmallBalance.com's reports offers real estate professionals timely and true measures of small-cap property performance. These products include VALPRO, an automated valuation model for small commercial properties, and Mercury Reports with subject-related rent and sales information supplemented by road maps and birds eye imagery. Both types of reports include national coverage and are instantly accessible as PDF reports by subscribers.
A number of banks recently subscribed during the web site's earlier soft-launch phase. Lenders find the reports satisfy vital information needs and are current – data and analytics are updated on a monthly basis. Randy Fuchs, principal and co-founder of Boxwood Means, stated there are multiple reasons why SmallBalance.com reports are a boost to productivity and risk management tasks. "Employing VALPRO and Mercury Reports are a much faster, better and less costly approach than conventional methods of assessing collateral values and small-cap market conditions, particularly under stressed, present-day market conditions. In addition, this asset class is unique and tracks the performance of U.S. residential housing even more closely than it does the larger CRE property market."
As a result, Fuchs suggested that "Drawing on mainstream CRE market data to assess the small commercial property market is like using the Dow Jones Industrial Average to benchmark performance of a small-cap mutual fund. In short, our new tools bring the small-cap real estate market into sharper focus for clients."
The small commercial property market of office, industrial and retail buildings under 50,000 square feet dominates the U.S. landscape with an estimated 16 million properties coast to coast. Consequently, small-cap properties comprise the bulk of CRE loan collateral in the portfolios of national, regional and community banks, among other lending institutions.
For more information about VALPRO and Mercury Reports, visit http://www.SmallBalance.com. Visitors can register for free and receive Boxwood's complimentary National and Regional Trends Update report, a monthly review of U.S. small-cap real estate market conditions.
Boxwood Means, Inc. (http://www.boxwoodmeans.com ) is a Stamford, CT- based real estate research and consulting firm providing quantitatively-oriented solutions for the investment, valuation and risk management needs of a diverse base of real estate and investment firms in the U.S. and Canada. SmallBalance.com is the firm's platform for distributing its leading research on U.S. small commercial property and loan markets.
###