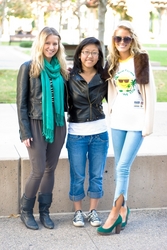 "I know it's not very 'fashionista' but you've got to look good in your clothes, so why not tone up while you're walking around?"
Los Angeles, CA (PRWEB) December 16, 2009
A top item on the collective sartorial wish list at FIDM this holiday season is over-the-knee black boots, like the ones Kate Hudson is wearing in her new movie, Nine. Katie McManus, majoring in Visual Communications, says she saw a pair at Nordstrom that fit the bill. And fellow Visual Communications student, Odette Serna, says, "I want ones with fringes on them. It's on my list. My mom's working on it."
Kara Nelson, in the Product Development program is dying for a pair of Reebok's new EasyTone sneakers. They have a built in balancing quality that makes you feel as if you're walking in sand. "I know it's not very 'fashionista' but you've got to look good in your clothes, so why not tone up while you're walking around?" But, true to her fashion college sentiment, she would also love a classic quilted black Chanel bag with a gold chain.
Bedazzled DJ headphones are at the top of Product Development student Erin Beaudoin's list, along with platform cheetah print heels.
Instead of clothes and accessories, Sarah Friesen in Visual Communications, would like yarn, specifically yarn by Malabrigo. She says it's wool and all hand-dyed. "I would really like purple and mustard yellow."
Other items on their lists include fitted black leather biker jackets, rugged military boots, anything faux fur, oversized sweater vests, bangles, chunky necklaces, big bags, circle scarves, slouchy knit sweaters, and gift cards. Tricia DeBrito, who studies fashion merchandising in the Merchandise Marketing major, says, "I love gift cards.  They let me choose what I want."
Echoing the sentiment of the season, Sasha Nuhn, studying Visual Communications, would really like a double ring that says, "Believe."
And sometimes holiday wish lists are just that… wishes. Justin Tan, an Apparel Manufacturing major, says, "I wish to be with all my friends and family. That's all I want."
Meanwhile, in the FIDM Museum Store on the Los Angeles Campus, best-selling items include Flex Flops by FIDM Alumna Stacy Kirsch and Rafia initial pendants by Alumna Rafia Cooper. FIDM students receive a 15% discount year-round at the store.
With four dynamic California campuses, FIDM/Fashion Institute of Design & Merchandising is the premier west coast fashion school, educating for careers in fashion design, graphic design, interior design, and entertainment. FIDM's graduates include renowned fashion designers like Monique Lhuillier, Emmy® and Academy Award® award-winning costume designers, top fashion industry executives, and entrepreneurs.
# # #