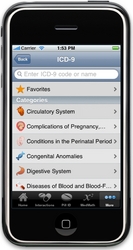 Epocrates Essentials Deluxe eases clinicians' administrative billing burden, and provides enhanced reference and educational support
San Mateo, Calif. (PRWEB) December 15, 2009
Epocrates, Inc., developer of the most popular medical application for iPhone® and iPod® touch devices, today introduced a new premium software suite for the platform – Epocrates® Essentials Deluxe. Now over 125,000 U.S. physicians who currently rely on Epocrates products on their iPhone and iPod touch devices can access trusted reference, diagnosis, decision support and billing information all in one application.
"I trust and use Epocrates on my iPhone everyday with patients at both the hospital and local clinic. I can ensure accurate decision making by quickly calling-up comprehensive drug and diagnostic information, and now much-needed billing codes to ensure I am not only providing the best care for my patients but getting paid for it too," said Dr. Nader S. Meri, an internal medicine specialist based in Michigan. "I routinely show off Epocrates to my colleagues and students, and found even those self-proclaimed 'technophobes' want to get an iPhone loaded with this new software."
Epocrates Essentials Deluxe is an integrated software suite that conveniently combines the Epocrates Essentials premium drug, disease and diagnostic information with a coding reference and an industry-standard medical dictionary. Medical professionals using Epocrates Essentials Deluxe on their iPhone devices will continue to experience fast access to trusted content and tools, including prescribing and safety information, peer-reviewed disease content and treatment guidelines, plus:

ICD-9/CPT® reference to help clinicians quickly identify procedural and diagnostic billing codes directly at the patient's bedside, which helps save both time and money
Medical dictionary that allows clinicians and medical students to view more than 100,000 medical terms and eponyms in a user-friendly format, featuring content from Stedman's
"Epocrates Essentials Deluxe eases clinicians' administrative billing burden, and provides enhanced reference and educational support," said Dr. Geoffrey Rutledge, Epocrates chief medical officer and executive vice president of product development. "Our team continues to develop products that help clinicians at the point of care. We take advantage of the advanced user interfaces, increased computing power, greater storage capacity, and high-speed networking of the latest smartphones--such as the iPhone--to deliver advanced clinical functionalities to physicians and other healthcare professionals."
Celebrating its 10 year anniversary last month, Epocrates is trusted by more than 900,000 medical professionals who regularly use the software to reportedly prevent millions of medical errors annually and save individuals up to 20 minutes per day. Epocrates is recognized as the first medical application for the iPhone, and its drug reference remains the top free medical download in the iTunes store. This year, the company also introduced the Epocrates® Essentials and Epocrates Rx Pro® premium programs for the iPhone, which continues to be the fastest growing platform among physicians.
For more information about the company's product offerings for iPhone, Blackberry®, Palm® and Windows® devices, visit http://www.epocrates.com/products.
"Stedman's Medical Dictionary 28th Edition" is a publication of Lippincott Williams & Wilkins. Copyright 2005, all rights reserved. CPT copyright 2005 American Medical Association. All rights reserved.
ABOUT EPOCRATES, INC.
Epocrates is a leading provider of clinical information and decision support tools to healthcare professionals. Epocrates currently has more than 900,000 healthcare professionals, including one in three U.S. physicians and 40 percent of medical students, in its active network. The company's subscription-based services enable healthcare professionals to make more informed medical decisions, reduce medical errors and practice more efficiently. For more information about Epocrates, please visit http://www.epocrates.com/company.
###