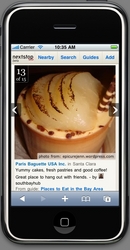 We've always envisioned nextstop being useful for all kinds of travel.
San Francisco, CA (PRWEB) December 15, 2009
nextstop is a community effort to build a catalog of all the best things to do, places to go, and experiences to try anywhere in the world based entirely on contributions from local experts and passionate travelers.
Since the company's launch in June 2009, nextstop users have contributed high quality recommendations in over 1000 locations around the world, including in-depth guides that highlight hidden gems in London, walking tours in San Francisco, or cheap eats in NYC. Starting today, nextstop.com will now be accessible wherever you are with the beta launch of nextstop mobile for the iPhone.
Highlights of nextstop mobile for the iPhone include:

Fast: nextstop provides a fast browsing experience that makes it easy to find great things to do near wherever you are - or around the world.
Visual: Every recommended place in nextstop has a photo, so you can find the places that look interesting without having to read a lot of text. You can easily flip through nextstop guides to quickly get a sense of what's good to do in a new place.
Easy to Contribute: nextstop mobile makes it easy to add a new recommendation - select a category, browse through available photos (or take one with your iPhone!), and write a few words about what makes it great. You can easily share recommendations you make on Facebook or Twitter.
Built with HTML5: nextstop mobile is built using the latest HTML5 technologies to deliver a near-native experience in the iPhone browser. You can optionally install an application to take pictures from the iPhone -- a technology that nextstop is open sourcing to enable other iPhone developers to push the limits of HTML5.
"We've always envisioned nextstop being useful for all kinds of travel." said Carl Sjogreen, co-founder of nextstop. "Whether you're planning in advance for a larger trip, or finding something interesting between business meetings in a new city. Now with nextstop mobile for the iPhone, you can easily see what to do (or contribute what you love) wherever you are."
"We believe that HTML5 is the future for building rich mobile applications," said Adrian Graham, co-founder of nextstop. "HTML5 applications are dramatically simpler to build, freeing developers from the walled gardens of manufacturers/carriers. Although the technology is still early, it's now possible to build HTML5 applications that rival native iPhone applications."
About nextstop: Based in San Francisco, California and founded in 2008 by a group of active travelers frustrated with the existing solutions for finding new things to do, nextstop's mission is to make it easy and fun to discover new and authentic experiences wherever you are in the world. Whether you're interested in great food, art, outdoor activities, or things to do with kids, nextstop helps connect you with people all over the world with similar tastes and the places and activities that they love most. With experience building and launching successful consumer products like Google Calendar and Picasa Web Albums, the founding team is excited to bring their understanding of communities and easy-to-use web products to this space. For more information, visit nextstop.com, read our blog (blog.nextstop.com), read our Press FAQ (nextstop.com/press) or follow nextstop on Twitter.
# # #