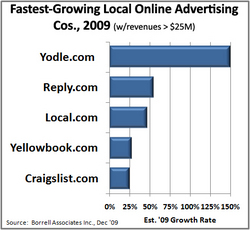 Predictions are interesting, but monitoring online ad trends and acting on them is more useful.
Williamsburg, VA (PRWEB) December 14, 2009
Borrell Associates today issued its Top 5 online advertising recommendations for local online media in 2010, advising that next year will offer a clearer picture of local media companies being left behind in the digital media transition. These Top 5 recommendations are trends worth watching for companies looking for exponential ad revenue growth.
"The revenue division began occurring this year, and we think the gap will widen in 2010," said CEO Gordon Borrell. "Local media that tied their ad sales too closely to their legacy broadcast and print businesses saw negative growth for online. Those that didn't, saw terrific growth. Next year will be the year that many of them might be officially left behind."
Borrell Associates' No. 1 recommendation is to watch the fastest-growing companies and copy them. The Top 5 list is a precursor to Borrell Associates' February conference in New York, where it has molded a conference agenda around companies exhibiting the highest growth.
"Look at legacy media companies such as Yellowbook.com and Yellowpages.com – already with hundreds of millions of dollars of online advertising – and LIN-TV and Nexstar Broadcasting," Borrell added. "They all saw double-digit online growth this year. Even McClatchy, which is suffering horrible losses on the newspaper side, saw positive growth last quarter due to a brilliant Internet strategy."
Other fast-growing local online advertising companies, according to Borrell, are Yodle.com (up 150%), Reply.com (up 50%+), and Local.com (up 46%). The CEOs of each of the companies, along with executives from LIN TV, McClatchy and Yellowpages.com, will be featured at Borrell's 2010 Local Online Advertising Conference on Feb. 8-9 in New York.
Borrell distilled its traditional Top 10 list down to five, saying media managers were already mired in opportunity and might make better progress by cutting out the time-wasters. The company also noted that it didn't plan on issuing predictions – but recommendations. "Predictions are interesting, but monitoring online ad trends and acting on them is more useful," Borrell said. Its Top 5 recommendations in 2010 are:
1. Identify and copy the fastest-growing companies. Two-thirds of the companies Borrell monitors saw negative online advertising growth this year. The other third were offering break-out products. Reply.com, which works in the worst-hit categories of real estate and automotive, saw 50% growth in revenues this year.
2. Consider partnerships between local media and national pure-plays. These often rely on the technology strengths of the pure-play companies and the promotional, content and sales capabilities of local media. The Yahoo-newspaper deal alone may bring $200 million to $300 million in new sales in 2010. Other technology partnerships have propelled most of the Yellow Pages companies into double-digit growth this year.
3. Watch for less spending on local advertising, and be prepared to recapture it on the "promotions" side. Borrell expects total advertising expenditures to decrease 7.5% over the next five years, while the amount spent on promotions – things like social networking, coupons, samples, rebates, contests, etc. – will increase 24%. With coupon usage up 36% this year, the convergence of advertising circulars with the Web will undoubtedly intensify.
4. Be prepared for future mobile advertising growth. Mobile is the new disruptor. But moderation is the keyword here. Like the World Wide Web in the 1990s, we expect that many will rush in, only to find that the exciting results they've heard about are just experiments by a few daring advertisers. Small and medium-size advertisers are usually very conservative.
5. Capitalize on the transformation of the Web into a video medium. Comfort levels for Web-based video have skyrocketed, and local advertisers are likely to follow in much larger numbers – not only in pre-roll commercials, but also in longer "infomercial" type commercials embedded within online directories and inside banner advertisements.
Borrell's Conference, "Local Online Advertising: The Business of Making Money Conference," will be held Feb. 8-9 at the Grand Hyatt in New York City. For more information, visit http://www.borrellassociates.com/conference or call 757-221-6641.
About Borrell Associates:
The local ad strategy and consulting firm, Borrell Associates, is the leading provider of local advertising research, data and strategic analysis along with consulting and sales-training services. The company provides detailed market advertising reports for hundreds of local interactive and traditional media companies, including local online ad spending, and customized reports for any U.S., Canadian or U.K. market and publishes annual online advertising reports and monthly analyses. For more information, visit our Web site http://www.borrellassociates.com.
###