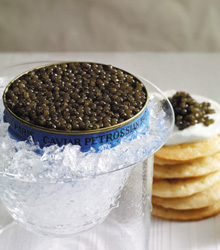 "People are becoming more and more conscious about trying to go with a product that is sustainable."
New York, NY (PRWEB) December 16, 2009
Petrossian, the world's foremost distributor of caviar and luxury foods, has launched their newest holiday special – the American Caviar Holiday Experience. This complete feast includes 4 varieties of American Caviar, caviar complements, chocolate truffles and a fine bottle of white wine. This package retails for $537 and includes free shipping.
Petrossian designed this holiday package in response to the surge in orders for American caviar. Petrossian's sales of caviar from the White Sturgeon, sustainably raised in California, have grown 30% percent in the past year. Petrossian has worked with the Stolt Sea Farm for years to develop a sustainable alternative with a quality equal to that of Ossetra and Sevruga.
''First of all, the taste is great," says Michel Emery, director of sales at Petrossian. ''White Sturgeon Caviar is a very clean caviar, and well balanced. People are becoming more and more conscious about trying to go with a product that is sustainable."
Two of the caviars in the American Caviar Holiday Experience, the Royal Transmontanus Caviar and Alverta Caviar, are sustainable caviars, taken from White Sturgeon grown in the Stolt Sea Farm in California. The package also includes Hackleback Caviar and Chataluga Prestige, harvested wild from rivers in Tennesee and Illinois.
The wine accompaniment, Chateau Olivier White 2005 Pessac Leognan, has been specially selected by Petrossian's sommeliers to accompany caviar. The dry white wine cleanses the palate, allowing each spoonful of caviar to impart its full range of flavors.
To complete this hot holiday item, Petrossian has included creme fraiche and blini – complements ideal for serving caviar. For dessert, the American Caviar Holiday Experience features Petrossian's Chocolate Truffle Sampler – chocolate imbued with mesmerizing flavors like the Salted Butter Caramel, Chile-Limon Mayan Truffle, and Lime with Coconut and Ginger.
Ordering and Wine Restrictions:
To order the American Caviar Holiday Experience, visit Petrossian.com or call 800-828-9241. Due to legal restrictions, wine will be substituted with 8.8 oz. of classic sliced smoked salmon the following states - GA, IN, KY, MA, MD, ME, MI, NC, OK, TN, UT.
About Petrossian.com
Petrossian.com is the online store for Petrossian Inc., one of the preeminent caviar houses in the world. Since its founding in 1920, Petrossian has expanded its wholesale operation as well as opening locations in New York and West Hollywood. Petrossian.com has been part of the Petrossian brand for more than 10 years selling caviar, gift baskets and more online.
# # #