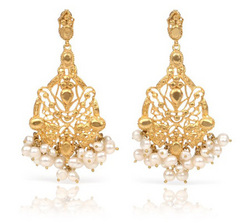 "The holidays are special times that call for special fashion jewelry pieces. Nothing on my site is made in a factory, and you won't find my jewelry at the mall or chain stores," - Terrene CEO Nancy Alexander
Alexandria, VA (PRWEB) December 15, 2009
Online fashion jewelry purveyor shopterrene.com today announced an end-of-year online sale that will lower prices on select fashion jewelry items up to 60% off through December 31. Shopterrene.com is an online jewelry boutique that offers hand-crafted gold and silver fashion jewelry, turquoise and gemstone sets, and other unique pieces from around the world.
The sale covers some of the site's most popular designs and designers, including Sura Jewelry from Turkey and the sleek, contemporary artistry of Thailand's Gavang.
Terrene CEO Nancy Alexander has hand-selected all items for the sale, reducing prices on pieces that are particularly well suited to gift-giving as well as a selection of show stopping party-wear. "The holidays are special times that call for special fashion jewelry pieces. Nothing on my site is made in a factory, and you won't find my jewelry at the mall or chain stores," she says.
"I think we're all reflecting more on the value of the things we buy. Fashion Jewelry is something enduring – both in its worth and the enjoyment it gives to the recipient," adds Alexander.
The Terrene jewelry sale runs through December 31.
About Terrene Jewelry:
Terrene Jewelry selects unique hand-crafted and hand-finished artisanal jewelry from around the world and makes it available to North American consumers via shopterrene.com. Terrene was launched in 2008 by style maven and cover model Nancy Alexander, who brings to Terrene an eye for the distinctive; the fashion industry expert has represented iconic brands from Neiman Marcus to Clinique Cosmetics. For more information, visit http://www.shopterrene.com, call 1-888-317-3111 or e-mail at info(at)shopterrene(dot)com.
###