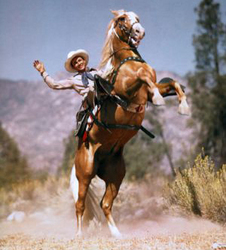 USHorse.biz is excited to add classic video clips to our website courtesy of Equifava.org and PegasusTV.org.
Glendale, CA (PRWEB) December 15, 2009
Whether you jumped out of bed to watch "Fury" on Saturday morning TV as a kid, or fell in love with the mystique of horses on film watching "Spirit: Stallion of the Cimarron," "Dreamer," or the ABC Family teen (and horse) drama "Wildfire," the debut of the Houston-based non-profit Equine Film and Video Archives has put wings on horse productions of all genres around the world for people around the globe who love horses.
Want to see some of the very first motion pictures featuring horses, rare footage of a renowned trainer donated by an elderly woman in Australia? Or how about watching "My Pal Trigger," when Roy Rogers first got his golden palomino? Get a sneak peek of the Archives' mission and offerings from http://www.Equifava.org/ and its video portal http://www.PegasusTV.org/.
Developed after studies of numerous organizations, the concept for The Equine Film and Video Archives was particularly influenced by the Los-Angeles based American Film Institute and the National Archives in Washington, D.C., according to Sally Lasater, founder and executive director of the non-profit.
The Equine Film and Video Archives, a new online educational and informational video resource for equestrian enthusiasts, is galloping toward the future with the activation of two affiliated websites, Equifava.org and PegasusTV.org. The archives are a project of Equifava, Inc., a Texas-based non-profit organization dedicated to researching and documenting film and video from the past century through today, while focusing on the history, knowledge and heritage of the horse and horse cultures throughout the world.
The Equifava.org website outlines the mission statement and summary of operations as well as a history of the horse on television and in home media. Website pages are easily translated on the fly into 12 different languages, providing detailed information on funding, content submissions, volunteer programs, user-generated video submissions, grant programs for producers seeking production funding and much more to the international equestrian community.
PegasusTV.org provides the online access to the archives, an ever-expanding repository of equine-related knowledge and information which functions as an on-demand television program service. Initial selections include approximately 800 video segments representing more than 250 full-length video programs, including some of the very first motion pictures featuring horses. The 1924 black and white silent film, "The Devil Horse" has one of the most authentic, non-simulated battles between mature stallions ever filmed.
Archive growth will depend upon several variables, but current plans call for an accelerated expansion during the next 12 to 18 months, with an immediate ramp-up which will almost double the current number of programs now available. Individual pay-per-view, subscription-based and free-to-view channels from individuals and organizations will also soon be available through the PegasusTV.org website as add-on features for visitors.
Content is acquired through licensing agreements based on revenue sharing, the donation-for-use of programs and bodies-of-work from individuals, companies and organizations, and symbiotic relationships with educational institutions around the world. Volunteers will assist with the sourcing of film and video content within their own communities and organizations. Direct upload of video into the KnowledgeBarn, a consumer-generated area of PegasusTV,org, will provide an additional resource for equestrian knowledge and information.
Equifava will also assist in the funding of educational and documentary video and film projects focusing on the horse and will provide guidance and expertise to producers seeking distribution across various media platforms.
Sally Lasater, founder and Executive Director of the non-profit organization, said, "Equifava was created so that current and future generations can appreciate the extraordinary equine heritage which has been documented over the past one hundred years, and to do so in a non-commercial environment. Thousands of hours of film and video have been produced documenting the horse and its uses, and much of the film from the early years has already been lost or is rapidly deteriorating. Video materials created even in the last 30 years are at risk of disappearing because of the fragility of video tape and the absence of any focused effort to preserve them."
She continued, "The horse world is rapidly losing images of great horses, legendary riders, respected trainers, extraordinary performances, events, competitions, documentaries and even feature films and 'Saturday morning' serials. With the loss of these materials, the horse industry and equestrian communities throughout the world lose an important part of their heritage and past. It is my hope that people and organizations will understand the archives' potential and take advantage of what we've been able to do so far with limited financial resources. Participation and acceptance is crucial during these first beginning steps. While not a current goal, it would be wonderful to have a permanent home for the archives in the future where people could go to research, learn and enjoy."
Ms. Lasater, an industry veteran and media innovator, was co-producer of the country's first nationally syndicated equestrian television series, "The American Horse and Horseman," with Dale Robertson (1973), and was the creator of the original HorseTV (2000), NickerNetwork.com, the online television network (2007) and HorseNet.com, one of the first Internet equestrian portal websites (1994).
The organization is funded through individual and corporate sponsorships, donations, grants, subscriber access fees and product sales through affiliated enterprise retail websites.
###