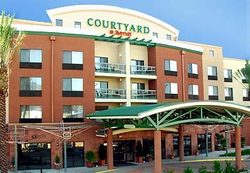 Burbank, CA (PRWEB) December 16, 2009
The Courtyard Los Angeles Burbank Airport is expected to host a large crowd when Equestfest is held at the Los Angeles Equestrian Center. The Burbank airport hotel offers a close proximity to the event, as well as 60 inch TVs that will broadcast Equestfest inside of the hotel.
Equestfest will be held on December 29, 2009 from 11:00 a.m until 3:00 p.m. Tickets can be purchased over the phone at 626-795-4171 or online at http://www.sharpseating.com.
Equestfest has become a favorite for families. The event features the equestrian participants of the Rose Parade as they go through a series of drills, dances and demonstrations. Guests can also go through the stables and talk to the riders of the horses. This is a unique opportunity for people to learn about horse training and riding from those directly involved.
Those who want to stay at one of the hotels near Burbank Airport and watch the event on TV can book a room at the Courtyard Los Angeles Burbank Airport. Guests who choose this option will not be confined to their guestrooms when they watch the event on TV. Instead, they can use one of the three 60 inch HDTVs in the lounge area.
The hotel expects Equestfest to be a popular event at the hotel, and encourages people to book their rooms early so they can enjoy the event in person or in the lounge. Since it is a popular event, people will travel from around the country to see it, so rooms will fill up quickly.
To book a room at the Courtyard Los Angeles Burbank Airport, visit http://www.marriott.com/hotels/travel/burcy-courtyard-los-angeles-burbank-airport/ or call 10800-321-2211.
About the Courtyard Los Angeles Burbank Airport:
The Courtyard Los Angeles Burbank Airport offers service, luxury and style unparalleled by other hotels at Burbank Airport. From the lobby infused with the latest technology to the poolside cabanas and drinks by the fire pit, the hotel merges luxury and comfort. With newly appointed guest rooms and lots of amenities, the hotel stands out among the hotels near Burbank airport.
###