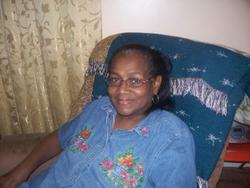 Leona's story epitomizes Lendego's mission statement
Dacula, GA (Vocus) December 17, 2009
A mother of seven, Leona Coleman of Morrow, Ga., has always put the needs of her family above her own. Living by the motto that the Lord never gives a person more then they can handle, Leona has taken each obstacle in her life in stride. But with an impending kidney transplant and no way to pay the surmounting medical bills, Leona's family has stepped in and turned to Lendego, a grassroots nonprofit that focuses on peer to peer giving, to help their mother in her time of need.
"Leona's story epitomizes Lendego's mission statement," said Lendego's Founder, Dennis Hodges, "Leona has spent her entire life working to help improve the lives of those around her. Now life has handed her a set of circumstances that she cannot handle alone. That's where we step in. I think one of the biggest misconceptions about peer to peer giving is that it's often seen as a hand out. It's simply not true. Each individual on the Lendego site has made every effort to make it on his or her own, but sometimes there comes a point where you have to let someone else help. That's where Lendego steps in."
Born and raised in Louisiana, Leona moved to Morrow, Ga., in 1992 where she worked at the post office and at a local bakery. In 1998 Leona began to have problems with her legs and she eventually underwent surgery to replace one hip. One year later in 1999, Leona had to have her other hip replaced. Her medical problems made work impossible, but the family adjusted to the difficult situation and made due with what they had, living off of Leona's husband Kelvin's salary. Throughout it all, Leona has always remained positive.
"Although I have bad days, I have more good days and am truly blessed," said Leona. I know the Lord doesn't give you more than what you can handle in life."
In 2008, Leona's medical problems resurfaced and she was diagnosed with Lupus, which caused an infection on her kidneys. The infection and resulting loss of kidney function has made it necessary for Leona to have a kidney transplant. Her insurance will 80 percent of the costs associated with the operation and medication, but covers none of the cost for medication for the first six months.
Upon hearing Leona's story, Lendego decided to help the Coleman family raise the funds necessary to cover the expense of the medication for the fist six months. The peer to peer giving organization hopes to raise $11,000 dollars for Leona by April 20, 2010.
Individuals or families struggling with difficult circumstances can contact Lendego for assistance. Recipients can post a need themselves or be submitted by a "sponsor" -- family members, a friend, church, employer or another nonprofit that is working to help meet the individual's need. After the need is verified by Lendego staff, their story is posted at http://www.Lendego.org; where givers can browse all the needs and select those for which they wish to help. Givers can give the amount they choose to each recipient. Once the need is met, Lendego disburses the funds directly to the family or individual in need.
Lendego is a 501(c)(3) nonprofit organization based in Atlanta, Ga. that helps meet the needs of others by connecting them with individuals wishing to give. Lendego empowers its donors to choose the individuals, families, groups or organization they want to help. Powered by givers, Lendego positively impacts the lives of real people with real needs. With Lendego's peer to peer giving platform, funds can be directed to specific individuals, families, groups or organizations in need. To learn more about Lendego, to post a need, to help someone in need or to donate to Lendego or learn more about its upcoming fundraisers and special events, visit http://www.Lendego.org, follow along with Twitter http://www.twitter.com/lendego or Facebook http://www.facebook.com/lendego or call 770-559-3072.
###