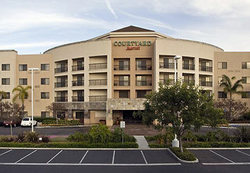 San Diego, CA (PRWEB) December 16, 2009
The Courtyard San Diego Central is giving guests a new look, along with deals for guests and event planners. For a limited time, the San Diego Central hotel' s local neighborhood rate is discounted, and special rewards are availed for event planners.
The Courtyard San Diego Central is offering a local weekend neighborhood rate of $79. Guests who pay this rate will have a guestroom at the Courtyard's Central San Diego hotel for the night.
In addition to the low weekend rates, the Courtyard San Diego Central is offering a special deal for those who use the event space. Those who book an event before March 2010 will receive double reward points. Reward points can be used for discounts on rooms and event space at any participating Marriott or Courtyard location worldwide.
The San Diego Central hotel is also hosting a special holiday dinner for single Marine's without families. The event is being held to cheer up the troops and thank them for their service. As an added bonus, Charger football players will be on hand to mingle with the marines. This is the 6th Annual Marine holiday dinner held at the Courtyard San Diego Central, and it is expected to draw large numbers.
All of this comes after a $3 million renovation. The renovation gave the hotel a modern look. In addition to the new look, the hotel installed new, state of the art technology, including a Go Board in the lobby. The Go Board provides guests with important information.
For more information or to book a room, visit http://www.marriott.com/hotels/travel/sancy-courtyard-san-diego-central/ or call 1-800-321-2211.
About the Courtyard San Diego Central
The Courtyard San Diego Central is one of the premium hotels in Central San Diego. The hotel offers the best in luxury and comfort. It has a large heated outdoor pool for swimming and spacious guest rooms. Guestrooms are outfitted with technological devices, as well as the Marriott's luxurious bedding.
# # #