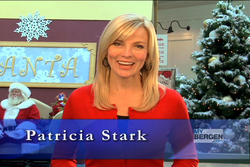 There's so much going on in Bergen County, NJ every day that people just aren't aware of
Montvale, NJ (PRWEB) December 16, 2009
MyBergen TV, which premiered earlier this December, provides Bergen families with an informative, fast-paced look at life in all corners of the Northern New Jersey County. The new TV show, produced by MyBergen.com is fun, informative and entertaining. MyBergen TV is hosted by veteran anchor Patricia Stark and will spotlight the people, places and events that make Bergen County, NJ special.
"There's so much going on in Bergen County, NJ every day that people just aren't aware of," MyBergen TV producer Dan Fabrizio said. "That's really our intention, to give them insight into some of the places, people, and events happening here that they wouldn't otherwise know about. Hopefully this enhances the overall experience of living here for people – that's the goal of the show."
MyBergen TV is brought to you by the same folks that gave you MyBergen.com, which is the informative, lively website that debuted earlier this fall. MyBergen.com and MyBergen TV are the essential resources for living, working or visiting Bergen County, New Jersey.
Whether you want to know about New Jersey restaurants, New Jersey entertainment, where the hot and trendy stores are or simply what special New Jersey events are on the calendar, MyBergen.com is your resource guide. If you're looking for music in New Jersey, who is playing where, what New Jersey concerts are on the docket, then MyBergen.com has the answers.
Check out the Healthy Living section for all the latest news from area hospitals like Holy Name in Teaneck or Hackensack University Medical Center. MyBergen.com touches on programs, services healthcare providers and people that make your healthy lifestyle their focus.
There is a section about home design, where you can learn more about the latest trends in interior design in New Jersey. There is also a Kids Corner, which serves as a handy guide for what to do with kids in New Jersey.
Finally, there is the Bergen People section, which profiles the New Jersey people who look to improve daily life in their communities by helping others. The charitable and philanthropic activities in which these people engage sets them apart, earning them recognition for putting others ahead of themselves.
Visit mybergen.com for more information about what days, times and cable TV channels you'll find MyBergenTV. And while you're visiting MyBergen.com, enjoy all that this very special website has to offer.
###