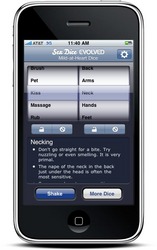 San Bruno, CA (PRWEB) December 21, 2009
This holiday season, mistletoe isn't the only way for couples to get on Santa's naughty list. MyPleasure.com, a leader in sex toys and sex education, is shaking things up by taking an exciting new approach to sexual exploration and education with a contemporary and frisky spin on sex dice just in time for the holidays. Sex Dice Evolved introduces a whole new world of sex play to iPhone app technology. With endless intimate possibilities at a simple shake of the dice, couples can share a retreat of sexual exploration after the holiday craze and even beyond. Every combination is accompanied by expert sex advice and tips and customizable dice allow partners to express their likes and dislikes, so the experience is always fun. Plus, with the ability to share and download naughty dice, you'll never get bored. MyPleasure believes that exploration, curiosity and education are key to a healthy sex life and has created this app for couples to enjoy.
And, for people who like to share advice and sexpertise, Sex Dice Evolved allows users to customize and publish their own sets of dice on Twitter. When a die set is created within the app, a simple click of the share button will tweet out the dice from @Sexdice, keeping it anonymous and giving dice fans a central location (twitter.com/sexdice) to see all the dice created by the community. The app will also display a code next to each set of dice, so you can tell your friends or even tweet out your code. It's the new way to crowdsource sex tips. The app also includes pre-loaded dice for the adventurous-no holds barred as well as the curious-but-shy user. Users can modify these dice or download customized dice through Twitter or from friends. Here are a few different situations where the Sex Dice Evolved app comes in handy:

Gain the freedom to try something new, something sexy, something you might just be too shy to ask for.

Learn a few pointers on the best way to perform a new activity, position, or how to introduce a new toy.

Don't be afraid to ask for it, just shake the dice and say the outcome out loud.

Set preferences so the combinations both people will want can come up again and again (or set to "never" if it's not!)
Don't forget to check out MyPleasure's other leading iPhone app called MyVibe, which subtly can transform any iPhone into a fun and discrete personal toy.
About MyPleasure.com
MyPleasure.com is a leading online sex toy retailer and education resource. With over 10,000 pages of educational content and a store full of expert-selected sex toys, MyPleasure presents sex toys as a safe, clean and exciting way for adults of all genders, ethnicities and sexual orientations to enjoy and enhance their sex lives, whether they are single or partnered. The MyPleasure shopping experience is enhanced with expert advice, polls, educational articles, games and sex tips plus carefully selected vibrators, dildos and other toys for women, men, and couples. As the only adult store founded and run by a noted sex therapist, the advice and guidance is as unmatched as the customer service, which includes our "One Year Sex Toy Guarantee". For more information, visit http://www.mypleasure.com.
For Media Inquiries:
Emily Joffrion
(619) 961-6228
###