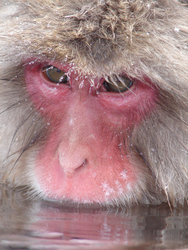 A rare focus on Japan's wildlife includes snow monkeys steaming in hot-spring pools...
Boulder, CO (PRWEB) December 16, 2009
Travel pundits agree: the freshest 2010 eco tours offer authentic true-to-their-destination adventure, and award-winning wildlife travel provider Natural Habitat Adventures is only too happy to oblige. Best known for its popular up-close Churchill, Manitoba polar bear tours, Natural Habitat Adventures newest offerings, departing in January 2010 and beyond, take its proven small-group travel approach to rare and untrammeled destinations on four continents. From the wilds of Tanzania (with the chance to follow in Jane Goodall's footsteps) to a different take on our own most popular national parks, Natural Habitat Adventures rings in 2010 with five new fresh-point-of-view wildlife adventure eco tours:

The Jane Goodall Institute Presents: Tanzania's Primates and Plains: Access sites most tourists never see while tracing Dr. Goodall's career from the Serengeti to Gombe. (12 days; January and August departures; rates start from $9,595 per person for up to 12 travelers)
Winter Yosemite & the California Coast: Enjoy California's "secret season," from100,000 monarch butterflies to mother seals nursing pups, plus hiking, kayaking and snowshoeing through winter-quiet landscapes. (7 days; January departures; rates start from $3,495 per person for up to14 travelers)
Wild Japan: A rare focus on Japan's wildlife includes snow monkeys (Japanese macaques) steaming in hot-spring pools and thousands of cranes in two separate sanctuaries. (13 days; January and March departures; rates start from $8,495 per person for up to 14 travelers)
Wolves of Yellowstone – Special Photo Trip: Experience and photograph Yellowstone's incredible wildlife during the winter, when wolves are plentiful and visitors are scarce. (8 days; January departure; rates start from $4,895 per person for up to 14 travelers)
Expedition Costa Rica: Visit a tropical fruit orchard and dine with a Costa Rican family while exploring the adventure travel mecca's less-discovered south Pacific coast. (8 days; February, March and December departures; rates start from $2,995 per person for up to 8 travelers)
Natural Habitat Adventures tours give back to the destinations they visit through local business support, conservation education and sustainable practices. A member of Adventure Collection and exclusive Conservation Travel Provider to World Wildlife Fund, the eco tour company's recent awards include a 2009 Best Adventure Travel Company ranking from National Geographic Adventure and a 2009 World's Best Tour Operator rating from Travel + Leisure. All Natural Habitat Adventures trips are carbon neutral. For information on the company and these and other small-group wildlife adventures from Arctic polar bear tours to Antarctic penguins, visit http://www.nathab.com.
For additional information and updates, check out NatHab's twitter page @nathab; the Good Nature blog; or contact Darla Worden.
# # #