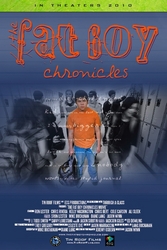 "I can't tell you how much I enjoyed this book. Jimmy is an amazing hero." Melinda Long~NY Times Bestselling Author of How I Became a Pirate
Alpharetta, GA (PRWEB) December 16, 2009
Co-authors Diane Lang and Michael Buchanan have written a revealing new book, The Fat Boy Chronicles, a realistic view of high school life told through the journal of an obese and bullied 9th grader. The movie version, produced by Tin Roof Films, and also written by Lang and Buchanan, will be released in 2010. The acclaimed novel is being used by schools around the nation for the opportunity it presents to create discussion about bullying and childhood obesity. The Fat Boy Chronicles was inspired by Doug Hennig (interview of Doug), a teenager in Cincinnati who suffered the taunts of classmates before he lost weight during his summer vacation and changed his life forever.
Jimmy Winterpock, the fictional hero, finds himself the target of cruel pranks and continual harassment because of his excessive weight. It is through the journal project assigned by his English teacher that we learn about Jimmy's struggles, his emotional pain and his cries for acceptance.
The book offers realistic, yet entertaining, insight into the life of a high school student in today's world. In the journal entries he lets the teacher read, he writes of the everyday, and entertaining, events of high school days. But, in the entries only the reader can see, he tells of the humiliation of PE class, the constant bullying by his peers, and his reaction to parental abuse inflicted upon his friend Paul. Jimmy finds solace in his friend Sable who has hidden problems of her own. When Jimmy visits his doctor and is told he must confront his obesity or face a lifetime of physical and emotional problems, he begins his transformation.
Lang and Buchanan are also the screenwriters of the book's adaptation into a movie. Principal photography was completed during the summer of 2009. The film was directed by Jason Winn and stars Ron Lester of Varsity Blues. Lester recently spoke about his role in the film and his own journey to lose 300 pounds on the national talk show The Doctors. The Fat Boy Chronicles has been featured on FOX News in Atlanta and other cities around the nation.
Authors Diane Lang and Michael Buchanan have called upon their years as award-winning teachers to write the book. Best-selling children and teen author Melinda Long says, "Lang Buchanan has truly captured what it is like to be an overweight teenager fighting for self-image and a place in the brutal high school world. I like the fact that Jimmy manages to tell his story with some humor and still experiences some of the really good things about being a teenager."
The authors and the movie's director are touring the nation speaking to schools and parent groups about the issues presented in the book and movie. The project is supported by Children's Healthcare of Atlanta and Cincinnati Children's Hospital. Dr. Thomas Inge, a leading expert on the childhood obesity crisis, wrote the foreword to the book.
The Fat Boy Chronicles is available in bookstores, at Barnes and Noble and at Amazon. More information can be found at the website for the book and movie.
"By reading this book, my students realize that we all have issus and they see each other with more compassion."
Joey Matthews~Health/PE Dept. Chair, John's Creek High School
"It's rare a book comes along that speaks to teens in their own words."
Michael Lucker~Screenwriter of Mulan 2, Spirit, Emperor's New Groove 2
"Jimmy is an inspiration to anyone who wants to make a positive change in his or her life."
Dr. Mark Wulkan~Emory Hospital, Children's Healthcare of Atlanta
"It touches the hearts of students, encourages them to write through the journal approach and provides a safety net to discuss major life issues." Pam Wade~Crabapple-Middle Literature Teacher
ABOUT AUTHORS/SCREEWRITERS DIANE LANG AND MICHAEL BUCHANAN
Authors and Screenwriters Diane Lang and Michael Buchanan have used their experience as high school teachers to the write the book and screenplay for The Fat Boy Chronicles. Named Teachers of the Year, nominated for Disney Teacher Awards, voted Star Teacher, and featured in USA Today for their creativity in the classroom, the writing team's ability to connect with students is evident. Other works by Lang Buchanan includes novels Micah's Child (2006) and Cry of the Quetzal (a historical romance set in Costa Rica), and screenplays Treasure of the Four Lions (the story of three kids helped by Civil War ghosts to find the lost Confederate gold), Ryan's Heart (inspired by a true story of how a young man's death led to saving hundreds of high school students), and Bait and Tackle (how two sons bring together their father and estranged uncle while on a fishing trip). Diane Lang has written for Lakewood Ranch News, The Cincinnati Enquirer and Fifty Plus Magazine. Michael Buchanan has also been published in Southern Anthologies and Artifact Magazines. The pair is finishing the young adult novel for Treasure of the Four Lions.
###