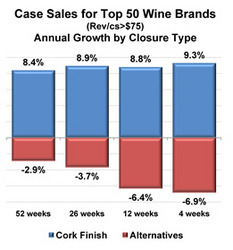 Cork finished brands enjoyed a pricing advantage of $1.70 per equivalent bottle over the alternative closures
Forestville, CA (PRWEB) December 16, 2009
A review of sales performance for the Top 50 Wine Brands offers some confirmation to anecdotal reports that "fighting varietals" finished with cork have outperformed those brands finished with alternative closures.
Of the top 50 Wine brands for the four -- week period ending 7/12/09, brands predominantly finished with cork closures show average volume increases of 9.9% over the same period year ago. Brands with Synthetic closures were relatively flat -- up 0.4% and brands with screwcaps declined by -1.7%
Cork finished brands enjoyed a pricing advantage of $1.70 per equivalent bottle over the alternative closures. Revenue per case was 32% higher for cork finished wines than the average of wines finished in synthetics and screwcaps.
These tendencies were more apparent when selecting brands with scanned revenue above $75/case. In this category, cork finished wines registered growth of 9.3% by volume compared to a loss of -6.9% for wines finished in alternative closures (all synthetic).
Of course, you cannot draw a conclusive root cause from this pattern. There are many factors involved with sales growth or decline.
However, it is interesting to note that this pattern has been visible all year. When looking at similar brands at 4 weeks, 12 weeks, 26 weeks and 52 weeks – the disparity between performance of Top 50 Brands with revenue >$75/cs appears to be steadily intensifying.
Cork finished brands have shown steady growth while the average of brands bottled in alternatives has shown deeper declines at every measurement interval.
In one recent article appearing in Decanter, the rise on Nobilo Sauvignon Blanc to be the number one US brand in this varietal was attributed to the decision to bottle with a cork closure.
Top 50 Brands were determined from reports published in Wine Industry Insight from data provided by Information Resources, Inc. Closure types were assigned based on the predominant packaging as tabulated by members of the Cork Quality Council.
The Cork Quality Council is a non-profit group organized to improve quality assurance programs for its membership. The group is comprised of Amorim Cork America, Cork Supply USA, Ganau America, Juvenal Direct, Lafitte Cork & Capsule, M.A.Silva Corks USA, Portocork America and Scott Laboratories.
The Cork Quality Council has successfully developed and introduced methods for screening cork shipments for chemical associated with cork taint now adopted as the wine industry standard. These screening methods are considered one of the primary reasons why the industry has seen such dramatic improvement in recent cork quality.
For more information or to see source material – please visit corkqc.com.
###