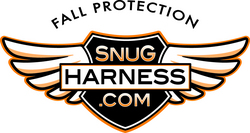 a penny wise a pound foolish
Mc Farland, WI (Vocus) December 15, 2009
It seems so straight forward, but not all safety tapes are created equal. Safety experts, Snug Harness, digs up some little know facts that can save cost conscious businesses time and money. The axiom, "a penny wise a pound foolish" will often hold true in the safety arena. Here's a couple different facts Snug Harness learned recently about safety tapes that can save time, money and the environment.
Choose lead-free traction tapes: Start thinking about what goes into our landfills. At the end of a product's life cycle it's going to end up in the garbage and then a landfill. Lead-free safety tape products won't contaminate a landfill which is a win-win for green-conscious businesses.
Pre-cut cleats (also known as non-skid grit tape cut outs): Start by choosing rounded edges over squared corners. This will extend a product's life and is safer since squared corners are more likely to have lift and flagging.
Buyer Beware for Barricade Tape: Not all advertised thicknesses are equal despite what some may have you believe. Sometimes it pays to compare different companies products. For example, the "thickness" that one company states for barricade tape may not be as sturdy as another company's same product. Some safety tape companies offers a comparison of TRUE thickness with data sheets at their website and some may even offer a special chart to use in comparing different products to their line.
Acrylic adhesives vs. rubber adhesives for anti-slip tapes: When they have the choice, companies should go with the acrylic adhesives. It's going to save time and money in the long run when companies eventually need to remove the safety tape at the end of it's life cycle. When pulled up, the acrylic adhesives leaves behind no residue, but if it's a rubber based safety tape it's going to need some acetate and some good old fashion elbow grease to rub away the residue. From a maintenance standpoint, the choice is clear - spend a little more and have to buy less. Not to mention, it will save on the knees.
###