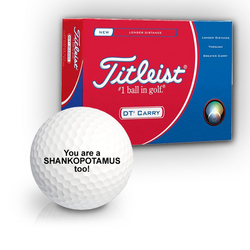 It's a reflection of the times. It seems like this year more than any other, gift buyers are looking for personalized gifts while remaining on a budget. This list makes it even easier for our customers to find something that fits both of those goals.
Lafayette, LA (PRWEB) December 15, 2009
To Golfballs.com, it is never too late in the holiday season for last-minute gift-giving, with the company's unmatched ability to turn around high-quality personalized golf products.
Now, though, it's even easier and more economical to take care of the golfer's wish list. Golfballs.com has created a list of 10 popular golf items available for under $25 each, with all items personalized to provide a truly unique gift.
Golfballs.com president and CEO Tom Cox said that the special offers are in response to a shift in buying habits during this holiday season. He said that while the amount of the average transaction is down slightly, total business is still up, meaning that consumers are seeking greater values.
"Even in this economy, we've had a significant volume on items in the $25 category," Cox said. "It's a reflection of the times. It seems like this year more than any other, gift buyers are looking for personalized gifts while remaining on a budget. This list makes it even easier for our customers to find something that fits both of those goals."
The company's most popular personalized item continues to be the Titleist Pro V1 and Pro V1x balls, the world's most popular ball for serious golfers and reduced to $39.95 per dozen including personalization during the holidays. But lower-priced items have also become popular, especially since Golfballs.com can print or embroider many of those items up until the last minute.
"We can still take orders for personalized gifts and guarantee Christmas delivery through Dec. 23," Cox said. "We can print, gift-wrap and ship in one or two days guaranteed. Nobody else can do that."
Personalized items in Golfballs.com's "Top 10" list include names, logos or photos with embroidery available on selected items. All are available for on-line order at http://www.Golfballs.com, and live help and ordering is also available toll-free at (800) 372-2557.
Golfballs.com's Top 10 Personalized Gift Items Under $25

SPECIAL FOR HIM – Titleist DT Carry Personalized Golf Balls -- $24.95/dozen
Titleist's DT Carry ball is the latest in a low compression/distance ball, which translates to better feel around the green and longer down the fairway. The two-piece ball is designed for amateurs with slower swing speeds and features a new, high-lift 252-dimple design to deliver more carry for even greater distance. And Golfballs.com adds personalization to your gift with three lines of black-ink text of your choosing.
SPECIAL FOR HER – Nike Power Distance Super Lady Personalized Golf Balls -- $14.95/dozen
Nike's Power Distance Super Lady ball allows women the opportunity to maximize scoring opportunities. The two-piece ball has a soft Surlyn cover and utilizes a lower compression and softer feel that will help any golfer with a slower swing speed to get more distance off the tee and better feel around the green … the perfect blend of power and grace. Personalized just for her.
Personalized Titleist Ball Marker Cap -- $22.00
The latest version of the Titleist Ball Marker hat promises to be the most popular yet for Titleist. It is available in four color styles and features a structured fit and an adjustable metal clasp backing for a perfect fit (one size fits all). A Titleist ball marker is included with every cap. Golfballs.com will also embroider your name or message, making it a truly personalized gift.
Personalized Callaway X-Series Cap -- $14.95
Callaway's X-Series cap is made from a lightweight, breathable mesh material for a relaxed fit and feel for virtually any size head. The cap features a pre-curved visor and a self-fabric adjustable strap with a metal slider and tuck. Golfballs.com's unique embroidery service, complimentary with this item, adds a personal touch while keeping a low price.
Personalized Tri-Fold Golf Towel -- $12.95
An excellent addition to any golfer's bag, this high-quality towel is 100% cotton terry-cloth that comes with a grommet and bag clip at the top for easy attachment. Used as a tournament tee gift at many prestigious events, it measures 16" x 25" with a tri-fold, and the front will be personalized or embroidered with a name or logo to make a unique gift.
Munsingwear Personalized Performance Personalized Golf Shirt – The Ultimate Pique -- $24.95
A great shirt on or off the course, the Munsingwear Performance brings stile, comfort and value together with its moisture-wicking performance technology that keeps golfers cool and dry. The three-button shirt features anti-microbial fabric to protect against odor, staining and deterioration and are Scotchgard-protected to help remove stains and keep the fabric soft and breathable. And Golfballs.com also personalizes each shirt!
On-Course Personalized Shoe Bag -- $19.95
Performance meets value with this leather-like shoe bag that holds all shoes up to size 15. Personalization placed on the front by Golfballs.com adds a personal touch to a bag that features a venting system, a plush fur interior and a unique full divider system to prevent scuffing. A handy carry strap makes transporting easy, and your name or logo will be prominently displayed.
Personalized Golf Tees -- $14.95
Normally a $49.95 item, personalized golf tees are a unique item that will remind the golfer of his gift every time he tees up a ball. The 100-count pack of standard 2 ¾" wood tees is available in white only and features an imprinted line that can include a name, company name or short message (character numbers limited).
Top-Flite XL Distance Photo Balls -- $17.95/dozen
A service unique to Golfballs.com, these Top-Flite XL Distance balls include printing of an actual photo on the ball itself, allowing the ultimate in personalization or gift-giving. The XL Distance, an improvement on the original XL series, is designed with the recreational golfer in mind and is one of the most durable discount balls on the market. And with the photo or logo feature, it is an unbelievable value and a gift that will be remembered.
Nike Power Distance Soft ID-Align Golf Balls -- $17.95/dozen
A combination of a high-quality ball with a Golfballs.com special feature – an alignment aid of your choice that also includes initials for ball identification, providing two services with one personalized imprint. Nike's Power Soft two-piece ball is one of the better low-compression balls on the market and takes distance, feel and enjoyability to the next level.
ABOUT GOLFBALLS.COM - From humble beginnings in a 100-square-foot room in a small-town warehouse, to its current state-of-the-art 20,000-square-foot facility, Golfballs.com has grown to become one of the world's leaders in on-line golf ball and equipment sales. Co-Founder Tom Cox has served as president and CEO since its 1995 start-up, growing the business from $17,000 in first-year sales to a 40-employee company that has over $10 million in annual sales, and which has sold over 50 million golf balls direct to consumers in all 50 states and over 50 countries. Golfballs.com has an in-house production department and is an authorized internet retailer for key brands including Titleist, Callaway and Nike and has been an approved Titleist imprinter since 2003, creating a company-wide focus on the sale of customized and personalized golf equipment. The company opened its retail outlet store in 2004 and recently launched loyaltylogo.com, a full-service promotional product distributor catering to businesses.
###