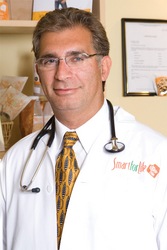 Doctor urges, "Treat obesity as a cancer. To stop dieting for the holidays is like stopping chemotherapy."
Boca Raton, FL (PRWEB) December 16, 2009
A local Smart for Life Cookie Diet Doctor, Sasson Moulavi (Dr. Sass), was recently asked by an overweight patient if she could stop her Diet over the holidays and then commence again right after. Dr. Sass explained to his patient that many people do not realize that being overweight or obese is a serious medical condition with possible serious consequences. If someone has 40 pounds of extra fat on their body, for example, the fat does not just lie around doing nothing. The excess fat in the body releases toxins and creates unnecessary and dangerous inflammation. The fat can also cover the heart and block the very important blood vessels that feed the brain and the heart.
Dr. Sass poses the following question to the local public, "If someone were to unfortunately have a cancerous tumor that was going to eventually kill them - would they stop chemotherapy for the holidays?" It would be unheard of for someone to just stop their chemotherapy for Thanksgiving or New Year's Celebration. A person that did this would be considered mentally unstable and would probably be hospitalized. Yet so many people stop their dieting over the holidays and is seen as completely acceptable - which is extremely unfortunate.
In a country where almost 50% of the population is obese or overweight, it has become the normal activity to stop therapy for this killer disease that causes so much suffering and death. Dr. Sass urges that this condition be taken more seriously and thought of as a slow growing cancer that must be treated until it is controlled. Overindulgence, especially during the holidays, gorges the fat cells which simply increase the size of the "tumor". As expected, Dr. Sass' answer to the question about stopping your Diet during the holidays is "No". The chemotherapy, or in this case "dieting", should not be stopped during the holidays. One must continue to treat the illness known as obesity in order to enjoy many more holidays to come.
About Dr. Sasson Moulav (Dr. Sass):
Dr. Sasson E. Moulavi (Dr. Sass), M.D. is the Medical Director of the Smart for Life™ Cookie Diet and Better Health Beverage both headquartered in Boca Raton, Florida and is a graduate of the University of Toronto where he received the degree of Doctor of Medicine. He completed post graduate training at McGill University in Montreal, Canada. Dr. Moulavi holds Board Certification in Bariatric Medicine and is a member of the American Society of Bariatric Physicians. He has completed the Annual Practical Approaches to the Treatment of Obesity at Harvard University and is a member of the American Board of Anti-Aging Medicine as well as the American Academy of Anti-Aging Medicine. For more than 15 years he has specialized in the study and treatment of Bariatric Medicine. Dr. Moulavi has directed the operation of multiple Weight Loss Centers in both the United States and Canada.
###