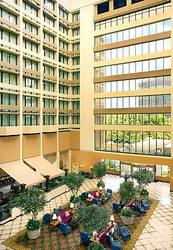 Now through March 9, 2010, visitors can take advantage of this weekend package with rates starting from $214 per night
Houston, TX (PRWEB) December 16, 2009
Energetic and diverse Houston is an inviting destination for business and leisure travelers - and the refined Houston Marriott Westchase is conveniently located near much of the action. With this Westchase hotel's CityPass booklet, you'll enjoy savings close to 50 percent on its selection of attractions such as The Space Center (NASA), The Aquarium, the Houston Zoo, Museum of Natural Science or Fine Arts.
The Houston Marriott Westchase CityPass Package includes a deluxe room, breakfast buffet for two, and two adult Houston CityPass booklets. Now through March 9, 2010, take advantage of this weekend package with rates starting from $214 per night.
Reservations can be made online at Houston Marriott Westchase using the promotional code EW5 or by calling the hotel directly at 1-713-978-7400.
For more information about this offer and other Westchase hotel deals, go to http://www.marriott.com/hotels/hotel-deals/houwm-houston-marriott-westchase/
###