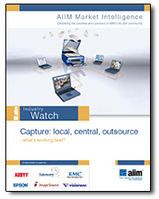 We have seen a steady increase in the use of scanning and capture as an input to business processes, with 42% of documents now being scanned-to-process rather than scanned-to-archive.
Silver Spring, MD (Vocus) December 16, 2009
According to new research by content management association AIIM, an average of 51% of the paper documents scanned by user organizations are born digital, having been output directly from a computer application with no further additions. The survey also found that 25% of scanned documents are photocopied before being sent for scanning, and that only 31% are destroyed after scanning, indicating a reluctance by users and organizations to lose sight of mission critical documents.
The AIIM report compares strategies for outsourced, centralized and distributed scanning, and concludes that there is a move back to centralized scanning operations, along with a greater investment in capture and recognition software to automate data capture and document indexing processes. Although outsourcing delivers cost and management benefits, users are concerned with the quality of indexing and the difficulty of integration back into their electronic archives.
Doug Miles, Director of Market Intelligence for AIIM, comments, "We have seen a steady increase in the use of scanning and capture as an input to business processes, with 42% of documents now being scanned-to-process rather than scanned-to-archive. Proximity to the process and the level of integration with other enterprise systems become more important in these applications. Users find that distributed processing with departmental scanners and MFPs improves ownership by the process owners, but office staff and knowledge workers need training and encouragement to ensure accurate indexing."
The AIIM survey also found that 46% of users report payback on their scanning and capture investments within 12 months, with two-thirds seeing returns within 18 months. These returns are consistent across many types of content and process, with invoices, contracts and application forms being the most popular.
Based on over 850 responses, the AIIM research report is entitled "Document Scanning and Capture: local, central, outsource – what's working best?" Part of the AIIM Industry Watch series, the full report is free to download from the AIIM website at http://www.aiim.org/research/document-scanning-and-capture.aspx. It is underwritten by ABBYY, Autonomy, EMC Corporation, Epson, Image Source, and Visioneer.
About the Research
The survey was taken by 882 individual members of the AIIM community between October 8th and October 23rd, 2009, using a Web-based tool. Invitations to take the survey were sent via e-mail to a selection of the AIIM worldwide community members.
About AIIM
AIIM (http://www.aiim.org) is the community that provides education, research, and best practices to help organizations find, control, and optimize their information. For over 60 years, AIIM has been the leading non-profit organization focused on helping users to understand the challenges associated with managing documents, content, records, and business processes. The AIIM community includes over 65,000 ECM users and professionals.
About the Research Sponsors
About ABBYY
ABBYY enables individuals and organizations to better communicate and manage information through our award-winning line of document recognition, data capture and linguistic software. Our OCR products include the ABBYY FineReader and Recognition Server and the ABBYY FlexiCapture data capture solutions. Paper-intensive organizations from all over the world use ABBYY software to automate time- and labour-consuming tasks and to streamline business processes. Visit http://www.abbyy.com.
About Autonomy
Autonomy Corporation plc (LSE: AU. or AU.L), a global leader in infrastructure software for the enterprise, spearheads the Meaning Based Computing movement. Recently ranked by IDC as the clear leader in enterprise search revenues, Autonomy's technology allows computers to form a conceptual and contextual understanding of any piece of electronic data, including unstructured information, such as text, email, web pages, voice, or video. Learn more at http://www.cardiff.com/products/liquidoffice/index.html.
About EMC
EMC Corporation is the world's leading developer and provider of information infrastructure technology and solutions that enable organizations of all sizes to transform the way they compete and create value from their information. Information about EMC's products and services can be found at http://www.EMC.com.
About Epson
Epson is a global leader in imaging products and innovation. Dedicated to exceeding the vision of customers worldwide through its compact, energy-saving, high-precision technologies, Epson's product line-up includes scanners, printers, 3LCD projectors, and electronic and crystal devices. Learn more at http://www.Epson.com.
About Image Source
With 600+ collective years of imaging experience, ImageSource is uniquely qualified to help you conquer business challenges with an ideal mix of capture technology. As independent ECM integrators, we provide discovery, support and everything in-between. Whether you require in-process capture, production scanning, distributed capture or mailroom solutions, ImageSource will get you there. Find out more at http://www.imagesourceinc.com.
About Visioneer
Visioneer provides a broad range of scanning solutions for the desktop, distributed and departmental document imaging markets as well as the mobile and remote business scanning segments. Visioneer high-performance business scanners and imaging software solutions offer users speed, image quality, advanced paper handling and ease-of-use with exclusive Visioneer OneTouch ™ technology. Learn more at http://www.visioneer.com.
Subscribe to AIIM RSS feeds at http://www.aiim.org/feeds
Subscribe to industry press release feeds at http://www.aiim.org/ResourceCenter/RSSFeed.aspx?Type=PRESSRELEASES
Beth Mayhew
Director, Marketing
301.755.2681
bmayhew@aiim.org
Doug Miles
Director, Market Intelligence
+44.1905.727600
dmiles@aiim.org