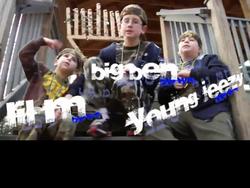 "Dressed in Hanukkah bling, the Borenstein Boyz rap about Hanukkah potato pancakes (Latkes), holiday donuts, and freedom of religion. All while imitating their favorite rap artist, Kanye West."
Fairfax, VA (PRWEB) December 15, 2009
What do Kanye West and Hanukkah share in common? The Borenstein Boys of Fairfax, Virginia.. Benjamin, Jacob and Max Borenstein, who formed a Jewish Hip-Hop group called 'The B-Boyz", are spreading the e-word about the coolness of Hanukah, the festival of light, via YouTube. The Borenstein boys used their own savings to produce a home-made music video and remix Kanye West's hit song "It's Amazing" with their own parody.
Dressed in Hanukah bling, the group raps about Hanukah potato pancakes (Latkes), holiday donuts, and freedom of religion. All while imitating their favorite rap artist, Kanye West. Benjamin Borenstein, 11 years old, says "We love Hip-Hop, Kanye West and always liked the Beastie Boys. So we got inspired to spread our love for music to all the Jewish kids across the country."
Jake, his 9.5 year old brother added "Our goal is to get 10,000 views on YouTube so 10,000 kids will know how cool Hanukah can be. It's all about celebrating our religious freedom." The B-Boyz's parody music video "An Amazing Hanukah" can be viewed on Youtube.com at http://www.youtube.com/watch?v=5vQAnKmhTws
###