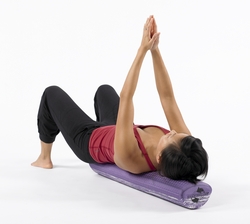 "The SMARTROLLER offers new dimensions of comfort and control not available from conventional rollers, for experienced as well as beginning roller users," Ralph Strauch, PhD
Minneapolis, MN (PRWEB) December 17, 2009
The SMARTROLLER® from OPTP is a uniquely designed, extremely resilient, 'two-in-one' foam roller. This patented foam roller has one side that is flatter and one side that is rounder, making it one of the most versatile foam rollers available. The rounder side of the SMARTROLLER increases roller movement, while the flatter side decreases movement. Reduced height and a shape that harmonizes with the human body, provides greater comfort when lying supine on the roller. The unique shape also creates easier mounting and dismounting than is possible with conventional rollers.
When a person rests their full back on the SMARTROLLER, there is more open space for the ribs and the mid spine to move during exercise. Because there are two sides to choose from, the SMARTROLLER can be flipped over to diminish or increase the movement of the roller, opening up even more positional and movement possibilities.
"The SMARTROLLER offers a new dimension in the use of foam rollers for balance, strengthening, and body awareness as part of an over-all fitness program. The more rounded side increases the pressure on the spinous processes thereby assisting in the unloading, lengthening and re-alignment of the vertebral bodies and discs in preparation for strengthening of the most important spinal support muscle--the Erector Spinae. The flatter side offers a greater challenge to balance when lying on the roller, thereby stimulating the nervous system and postural support muscles," said Sara M. Meeks, PT, MS, GCS.
The SMARTROLLER is a user-friendly tool for rehab, which affords healthy people a tremendous variety of challenges and progressive movements. This roller is a smart choice for people of all ages and fitness levels.
"The SMARTROLLER offers new dimensions of comfort and control not available from conventional rollers, for experienced as well as beginning roller users," said Ralph Strauch, PhD, Certified Feldenkrais Practitioner.
About OPTP
OPTP is the premier provider of quality fitness and rehabilitation products. Over the past 30 years we've built a worldwide reputation for providing excellent personal service, as well as the cutting edge tools and knowledge resources that health and fitness professionals require to succeed.
If you would like more information on the SMARTROLLER, or a free OPTP catalog, please see our website: http://www.optp.com. Or contact us at: OPTP P.O. Box 47009 Minneapolis, MN 55447
Toll-free: 800-367-7393 Phone: 763-553-0452 Fax: 763-559-5230
# # #