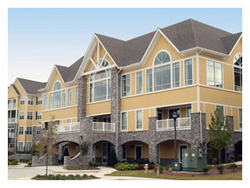 The gratitude the staff expresses when we give them the checks is so genuine
Alpharetta, GA (Vocus) December 17, 2009
Members at Park Springs, the Southeast's premier continuing care retirement community recently donated $203,000 to employees at Park Springs as part of the community's Employee Appreciation Fund. Members raised money over the course of the year through various community fundraisers as well as through monetary donations.
Due to a no tip clause on campus, the fund came into being in 2005 because Members felt the need to reward employees throughout the year. Monetary donations are only distributed to hourly employees and payments depend on the longevity of the employee's tenure and salary. This year, the average payout was $685.81. The maximum payout was $1,260.
Members distributed the money during an Employee Appreciation luncheon recently held in Park Springs' Community Hall. During the luncheon, 296 employees were presented with checks from the community's Finance Committee and Members who congregated in the Community Hall to say thank you for the staff's hard work and dedication throughout the course of the year.
"The gratitude the staff expresses when we give them the checks is so genuine," said Curtis James, chairman of the Park Springs Finance Committee. "It is almost a tear jerking moment. It was a great idea and it has become a salutary effect between members and employees."
Fundraising activities are one of many ways Park Springs Members are able to stay active in retirement. From holiday musicals and Wii bowling leagues to dance classes and trivia night, every Member of Park Springs is able to find his or her niche.
About Park Springs
The Southeast's premier CCRC, Park Springs enhances life for active seniors by providing independent residences alongside extensive amenities and on-site wellness and private health care facilities. The 398-home campus-style community is situated on 54 acres surrounded by Stone Mountain Park. A 64-suite health center provides assisted living, skilled nursing and dementia/Alzheimer's care. The campus style community boasts a 50,000 square foot
Clubhouse serving meals in four themed dining rooms daily and a 12,000 square foot fitness center with an indoor swimming pool. The Seniors Housing Council of the National Association of Home Builders named Park Springs a Platinum winner. Park Springs is developed by Isakson Living and managed by Life Care Services LLC (LCS), a leader in senior living communities. LCS today serves more than 23,000 residents daily in over 80 communities nationwide. For more information on Park Springs, call 678-684-3300 or visit http://www.parkspringscommunities.com.
About Park Springs' Health Services
Cobblestone, Park Spring's heath care center, offers the highest quality medical, nursing and rehabilitative care in a residential environment. Our Resident Centered model provides Members flexibility in their daily activities embracing individuality while focusing on all aspects of wellness. Staffing ratios are approximately two times greater than the state average. A full time doctor trained as a geriatrician whose sole responsibility is the health of our Members is employed on site. A clinic staffed by our own full time Licensed Nurse Practitioner performs routine check ups, tests and lab work. Our doctor, clinic and skilled care are all Medicare certified. Home care services are provided by trained staff employed directly by our communities, licensed by the state, bonded and insured only after undergoing a strict screening process.
###