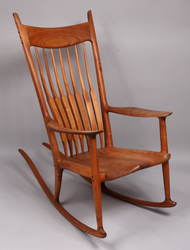 San Diego, CA and Boston, MA (PRWEB) December 16, 2009
Kaminski Auctions, one of Massachusetts' premier auction houses, announces its December Estates Auction, featuring fine art and antiques from the San Diego estate of Robert O. Peterson, noted patron of the arts and founder of the Jack in the Box restaurant chain. The auction takes place Monday December 28 and Tuesday, December 29 at Woodman's Function Hall, Rt. 133 Main Street, Essex, MA. Bidding commences at 4pm each day. Auction previews are scheduled Sunday, December 27 from 10am-5pm and on the day of the auction from 11am-4pm. Live online bidding is available through LiveAuctioneers. Visit http://www.KaminskiAuctions.com for information.
Peterson opened the first Jack in the Box in 1951 in San Diego. A life-long collector and philanthropist, he also served as Chairman of the American Craft Council. During his tenure there, Peterson worked diligently to foster the idea of crafts as art, furthering the careers of emerging artists and increasing public awareness on the issue. Peterson housed his massive collection in his Russell Forester-designed San Diego residence. With operations in both San Diego and the Boston area, Kaminski Auctions will bring the collection to the East Coast for the sale, with live online bidding available globally.
Featured items from the Peterson estate include a teakwood rocking chair (Est. $20,000-$30,000) by renowned furniture designer and woodworker Sam Maloof (American, 1916-2009). The chair, which stands 45 inches in height, is signed "No. 5, 1982, Sam Maloof" on its base. Maloof's work is held in the collections of several major art institutions, including the Metropolitan Museum of Art, the Philadelphia Museum of Art and the Smithsonian American Art Museum. Notable owners of Maloof rockers include Presidents Jimmy Carter and Ronald Reagan.
Among a spectacular selection of fine art from the Peterson estate is a painting by French artist Louis Valtat (1869-1952). Completed in 1902, Jeune Femmes Sur Les Rochers (Est. $30,000-$50,000) is an oil on canvas measuring 11 x 13.75 inches. A visionary artist, Valtat is considered to be one of the leaders of the Fauvist movement. In addition to his paintings, Valtat is also known for his 1894 collaboration with Henri de Toulouse-Lautrec and Albert Andre to create the décor for the Paris theatre "L'Oeuvre".
Also offered are two sculptures by renowned American artist Donal Hord (1902-1966). Both pieces are sculpted in lignum vitae, a rare hardwood known for its uncommonly high density. Descending Sun (Est. $20,000-$30,000) and Summer Rain (Est. $20,000-$30,000) are each initialed on their bases.
"We are thrilled to be able to offer such rare and beautiful items from this important estate," comments Frank Kaminski, owner of Kaminski Auctions. "Mr. Peterson was a discerning collector with an eye for important fine and decorative art, and we are certain this sale will generate a lot of interest nationally and internationally."
About Kaminski Auctions
Kaminski Auctions, headed by Frank Kaminski, specializes in appraising and auctioning fine art and antiques. As part of a complete estate service package, Kaminski provides expert appraisals, local and national advertising for all sales, competitive fees, itemized accounting of all transactions for heirs and representatives. In addition to full estate auctions, Kaminski accepts partial estate liquidations, as well as individual pieces and collections for consignment. The firm's extensive clientele includes museums, historical societies, corporations, non-profit organizations and private individuals. In early 2007, Kaminski launched a second operation in California. For information, visit http://www.KaminskiAuctions.com or call 978-927-2223.
Editor's Notes:

Additional photos are available on request.
Interviews with Frank Kaminski are encouraged and can be arranged.
On-site media coverage of the auction action is invited.
###