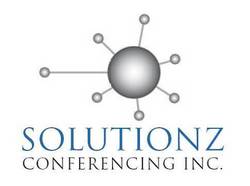 Brentwood, CA (Vocus) December 16, 2009
Solutionz Conferencing, Inc., a nationwide leader in video conferencing, audio visual integrations, managed services, and grant services, reaches out to customers to show how their systems deliver a rapid return on investment.
In the current tough economic environment, as executives tackle the challenges of reducing and containing costs, high definition (HD) video technology and telepresence technology have emerged as easy solutions. With increasing global economic uncertainty and constant change, more and more organizations are cutting travel budgets. Now, however, it's easy for companies to get a rapid return on investment when they implement Solutionz HD video conferencing and telepresence solutions because they quickly lower travel expenses and increase productivity, thus regaining time and money lost to constant travel. And because Solutionz provides the only complete in-house video conferencing solution (i.e., purchase consulting, installation, training, technical support, and post installation maintenance and service), Solutionz can ensure that the lifecycle costs of the systems obtained are significantly less than that of competitors.
How Solutionz Delivers a Higher (and Quicker) ROI

Many firms are discovering that they can cut one transcontintental or international business trip for a few employees and they've paid for a telepresence system
Organizations are saving millions of dollars per year in reduced travel and increased productivity thanks to Solutionz telepresence and HD video conferencing solutions
Many Solutionz HD video conferencing and telepresence customers see a complete ROI for their investment in as few as one to six months
Travel savings are just the tip of the iceberg when it comes to telepresence RO – Solutionz customers tell us that the time they save by not traveling is more valuable than the dollars saved
For more information on how your firm can save with Solutionz, visit http://www.solutionzinc.com.
About Solutionz
Solutionz Conferencing, Inc. is a nationwide total conferencing provider specializing in end-to-end video and voice communications, audio visual integration, managed services, and grant services, delivering the promise of face-to-face meetings regardless of distance.
Contact
Kristin McClune, Director of Marketing
Solutionz Conferencing, Inc.
(888) 815-6128
kmcclune(at)solutionzinc(dot)com
###