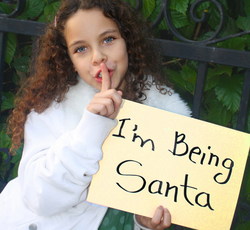 Ho, ho, ho, I'm being Santa. Thinking 'bout the gifts I can give to the ones I love.
Los Angeles, CA (PRWEB) December 15, 2009
Move over parents, the kids have crashed the party. For those who thought they could be territorial with the sneaking and the planning and the surprise, or thought they owned exclusive rights to the joy that follows their performance as Santa, their days are numbered.
The evidence can be found on a new YouTube music video, "I'm Being Santa." It begins with a pay-it-forward-themed story inspired by a "From Santa" gift tag. The mayhem that follows is a dancy, jumpy, joyous montage of children claiming their newest role—actually playing Santa themselves.
Playing only the role of "the kid with the list" is limiting; kids who focus solely on playing that role can be both adorable in their eagerness and appalling in their greed. With the character of Santa as a "role model," the song's lyrics explain his joyful nature as the ideal attractor: "When I give in secret so no one else will know, it feels so very good, I have to go ho-ho-ho."
Arita Trahan wrote the lyrics to "I'm Being Santa" after penning her first book, "The Santa Story Revisited: How to Give Your Children a Santa They Will Never Outgrow." She confessed to have gotten the idea for the "expanded" Santa that she promotes in her book from her own child 30 years ago.
After telling her three-year-old daughter the Santa story for the first time, Trahan later found an oddly wrapped package on the kitchen table. Puzzled, she asked, "What's this?" Her daughter answered, "It's for you, Mommy. It's from Santa." Trahan was touched and claimed an epiphany in that moment. When she mused, "Who could love me so much to give me a present this way?" her daughter pressed her lips together, steadfastly holding the secret, delight emanating from her.
Trahan explains, "Later I realized that I had forgotten to define which role in the Santa story was hers to play—so she chose for herself. Since my children grew up playing Santa from both sides of the mystery, they never experienced any disappointment as they grew older. Our Santa stories just kept getting better and better."
Trahan's approach to the Santa celebration remained a family secret until earlier this year when she was talking a friend through a typical "How do I keep the secret one more year?" dilemma. Having stood the test of time, she realized the season for a new Santa story had arrived and that other parents would be empowered and encouraged by it. Her book, "The Santa Story Revisited," was birthed.
The song, "I'm Being Santa," followed, with lyrics by Trahan and music by her husband, Mark Horwitz. A musician and speech pathologist who works with young children at Every Child Achieves in Los Angeles, Horwitz says, "I love the fact that Arita's book and song make the whole Santa experience even more fun for children. Every child loves to be sneaky, to surprise someone and then see that happy reaction. Peek-a-boo is the first game they learn to play! Yet, we expect our children to wait until they become parents themselves to play Santa. A bit selfish of us, wouldn't you say?"
Friend and fan of the new Santa idea, Sean Humphries offered to direct and edit the music video. Then musician friends from Nashville and the Agape International Children's Choir in Culver City, California all jumped into the act.
Humphries attests to the new Santa magic that he witnessed while shooting the music video, "Those kids were unstoppable. They were completely into the joy and the open-heartedness of the song. They may be better at this than we grown-ups are. We could learn a thing or two about playing roles from a child's perspective. Talk about maintaining a child's innocence. Full-out fun—with no deception. I'm for that!"
Trahan agrees and says "Why not play Santa WITH our children, instead of just FOR THEM? The happy results are a Santa with no expiration date." See for yourself at http://www.TheSantaStory.com and on YouTube at http://www.youtube.com/watch?v=mbh45srDylc.
Now when we meet a child during the holiday season, we might have more to say to them than the standard inquiry, "What do you want Santa to bring you this year?" Instead, we might ask, "What secret plans do you have as Santa this year?"
PHOTO CREDIT: http://www.MerylAnnButler.com
###