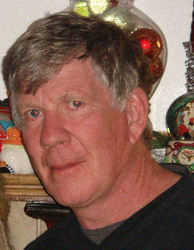 Hulagu's Web - The Presidential Pursuit of Senator Katherine Laforge
Twin Falls, ID (Vocus) December 16, 2009
David Hearne the author of "Hulagu's Web – The Presidential Pursuit of Senator Katherine Laforge" will be interviewed by KLIX AM 1310 host and news director James Tidmarsh Wednesday – December 16th, 2009 at 9:00 am. The show is broadcast from Twin Falls, Idaho but is available on line to anyone with a good Internet connection. So regardless of where you live, you can listen live to the James Tidmarsh's interview with Author David Hearne discussing "Hulagu's Web - The Presidential Pursuit of Senator Katherine Laforge" by listening online at the KLIXAM.com website or by clicking here. "I am looking forward to this interview with James Tidmarsh the news director of KLIX Radio because he is a seasoned interviewer with many interesting experiences. One such instance was his reporting with Nancy Grace on the 2005 murder trial of 16-year-old Sarah Johnson. She was accused of killing her parents because they interfered in her relationship with Bruno Santos, a 19-year old undocumented Mexican immigrant who was living in the region.
Tidmarsh, no stranger to the Twin Falls, Idaho area, has interviewed many luminaries over his career as a radio personality and will be grilling Hearne on his political thriller, "Hulagu's Web" and its relevance to current political events plaguing America.
Hulagu's Web weaves a story about Senator Katherine Laforge and her quest for the Presidency during the 2004 presidential race. Her campaign attracted powerful foes resulting in numerous assassination attempts culminating in a deadly attack on her campaign bus in Charlestown, NH resulting in the death of staff members and others.
The book chronicles the events leading up to this horrendous attack and speaks of many situations Americans still continue to struggle with 5 years later. "Hulagu's Web - The Presidential Pursuit of Senator Katherine Laforge" is considered by many as a must read. It is a brilliant and slashing indictment of today's political scene. Hulagu's Web is an ingenious and fast moving, spiced with assassination, conspiracy, action, mystery, deception, suspense, love, hate, politics, and even faith. It provides a fresh and original way to think about democracy, political process, and corporate greed. Emerging from the pages of Hulagu's Web is a thesis that members of congress and groups of businessmen clandestinely work together, backed by substantial funds, to corrupt the present democratic system and establish their own plutocracy. Unfortunately, the proposition is a believable scenario and as the story unfolds, some will find themselves wondering if this scenario has not already happened. Hulagu's Web is more than a novel of political intrigue; it questions and thoughtfully considers grave problems of our contemporary, global society. If you have read Sarah Palin's "Going Rogue," you must read Hulagu's Web and compare Senator Katherine Laforge to Sarah.
James Tidmarsh has been with KLIX radio for numerous years. His show has been replete with authors and luminaries from around the world.
David Hearne has been involved in literature for numerous years. He has written both fiction and non-fiction. Hearne lives in Lumberton, Texas with his wife and daughter in his eclectic Victorian house. He has a son Alex who is currently serving as a medic with the Navy. Hulagu's Web is published by Subterfuge Publishing.
###