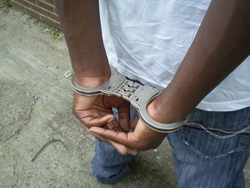 God can use the worst of us to do the best of things.
Hamilton, OH (PRWEB) December 18, 2009
James L. Robinson Sr. was born on September 18, 1958 in Anderson County, South Carolina, in a small rural town called Starr. He lived in South Carolina until 1964 where he was brought to Cincinnati, Ohio. He grew up in an all-black neighborhood called Lincoln Heights which is 15 miles north of Kentucky. While trouble plagued his early life, James was enterprising and learned at a young age that selling drugs was a way to earn big money. But he also watched as close friends and family were swept away by the effects of drugs.
Determined not to leave his wife and children behind by a prison sentence or an early death, James pulled his life together and went to college and secured steady jobs at General Electric and later Ford Motor Company. He experienced racial discrimination at Ford Motor Company and instead of ignoring it; he decided to right the wrong that had been done to him and so many of his fellow co-workers. Filing a lawsuit, James' quest to justice took a six-year trip, teaching him the ins and outs of our legal system, but ultimately he, and the 3400 other victims, were awarded a Historical multi-million dollar settlement and a change in Ford's policies. (Robinson vs Ford Motor Company; Civil Action No.1:04-cv-00844 in The United States District Court For The Southern District Of Ohio, Western Division ).
"All the hours, work, time, and money I spent to see this process through were worth it just to see that other blacks and minority workers are not faced with this type of systematic discrimination in the work place. It's a travesty that this type of discrimination still exists in our life-time," Robinson said.
James's book, From Delinquent to Disciple, was published in September by Journey Stone Creations, Fairfield, Ohio and is available at http://www.Fromdelinquenttodisciple.com or at Amazon.com.
"This is one book that every family should read, from the oldest to the youngest. Reading what James went through as a child, what he did as a teen, and what he experienced as an adult makes all parents want to reinforce the values James Robinson proclaims in his book. It is an excellent read!" said Kathryn Raaker, radio and television host.
###