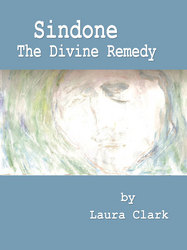 "...what it might mean for us all if the image and bloodstains on the Shroud were indeed left behind by Jesus Christ"
St. Louis, MO (PRWEB) December 16, 2009
The world is stunned but skeptical when news breaks that a man was secretly cloned from bloodstains on the Shroud of Turin. Heralded as the Second Coming of Jesus Christ, a manhunt ensues to find this professed savior. Sindone, The Divine Remedy blends science, religion and fiction to unravel the deeper mysteries behind The Shroud of Turin, known in Italy as the Sindone (a rare exhibition of the relic will be held in the spring of 2010).
Author, Laura Clark introduces a new controversy about the long disputed relic. Clark's treatment of the edgy premise is anything but predictable and does not stoop to lambaste the Catholic Church or exploit the relic's merit. Rather, Sindone rekindles interest in one of the world's greatest unsolved mysteries.
"The C-14 results date the Shroud to the Middle Ages. Yet, riveting, scientific evidence exists to refute the carbon dating results. And if it was a medieval hoax, how did they do it? The technologies required to place the image onto the cloth were not in existence in the Middle Ages. That piece of cloth has eluded us for centuries and continues to do so," Clark says.
Clark's book challenges the reader to an internal investigation that mirrors the inexplicable origins of the Shroud.
"This is a human story about the mystery of identity and what it might mean for us all if the image and bloodstains on the Shroud were indeed left behind by Jesus Christ," she explains.
Sindone is full of literary surprises; for starters, it is written as a screenplay. Additionally, in a cyberspace twist, the protagonist exists beyond the book's ending--as a blogger. http://www.divineremedy.org
Availability
Sindone, The Divine Remedy may be ordered at major online book outlets and local bookstores.
ISBN: 978-0-9789499-4-5
About
Cradle Press
P.O. Box 8401
St. Louis, MO 63132
http://www.cradlepress.com
About
Also by Laura Clark:
Surveillance Detection, The Art of Prevention
Security for Women, The Evolution of Empowerment
Sindone, The Divine Remedy is her fiction debut.
###