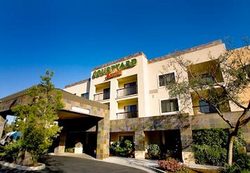 Carlsbad, CA (PRWEB) December 17, 2009
Hotel rooms are filling up quickly as travelers get ready to attend the Pacific Life Holiday Bowl at Qualcomm Stadium. The Courtyard San Diego Carlsbad, a Carlsbad hotel, has announced it still has rooms available for those attending the game. Reservations can be made online or over the phone. Travelers are encouraged to reserve their room quickly, as a large turnout is expected for the game.
This year's Holiday Bowl features the University of Arizona Wildcats and the University of Nebraska Cornhuskers. The game is Wednesday, December 30th at Qualcomm Stadium. it promises to be an exciting matchup. Both teams earned their position in the bowl game due to their hard work and skill level and fans for both are expected to turn out in large numbers.
There are still tickets available for the Pacific Life Holiday Bowl. Guests can purchase tickets at Qualcomm Stadium. Tickets can also be purchased over the phone at 619-283-5808 or online through various ticket outlets.
The Courtyard San Diego Carlsbad is close to Qualcomm Stadium, so the hotel anticipates large numbers of football fans to book rooms. In addition to its close proximity to the stadium, the hotel offers another option for those who want to watch the game. The Carlsbad hotel' s lounge includes a TV for sports programming, so guests who would prefer watching the game on ESPN can watch with other travelers.
To book a room at the Courtyard San Diego Carlsbad, visit http://www.marriott.com/hotels/travel/sancs-courtyard-san-diego-carlsbad/ or call 1-800-321-2211.
About the Courtyard San Diego Carlsbad
As one of the premium hotels in Carlsbad, CA, the Courtyard San Diego Carlsbad offers luxurious rooms and lots of amenities. With the Marriott's luxurious bedding package, sitting area and entertainment options, the Courtyard stands alone among Carlsbad, CA hotels for comfort and style.
# # #