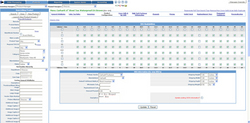 First SaaS-based Retail Management Software with Grid-based Merchandising.
Saratoga Springs, NY (PRWEB) December 17, 2009
CORESense the leading SaaS (Software-as-a-Service) provider of integrated retail and ecommerce software solutions announced that it had recently released a full suite of new retail management features designed to create a competitive advantage for single store and chain specialty apparel and footwear retailers. With this release CORESense added support for the efficient creation and management of products in a grid or matrix format including product/sku creation, purchasing, replenishment, stock transfers, inventory management and reporting. For the first time specialty apparel and footwear retailers can leverage a single, web-based application to meet all of their grid-based merchandising requirements. CORESense is the first and only retail management software solution to deliver the grid-based management and reporting as well as other features demanded by specialty footwear and apparel retailers in a fully integrated software-as-a-service solution.
Other new advantage creating features included in the release and fully integrated in the CORESense retail management software solution are location (chain, region, district, and store) and merchandize (category, department, class and sub-class) hierarchies; electronic data interchange (EDI), in-house accounts and customer loyalty programs. In addition, users of the retail management solution get CORESense's market leading multi-channel ecommerce and cross-channel retailing capability at no extra charge.
"We have been working closely with leading specially apparel and footwear retailers on this ground breaking product for over a year and are pleased to offer it to our growing customer base and the small and medium-sized retailer (SMR) market", said Chris Martin, CEO of CORESense. "Historically, access to a fully integrated end-to-end multi-channel retail management system capable of creating a competitive advantage was affordable only to larger big-box retailers. Small to medium-sized retailers (SMRs) simply couldn't compete. With this release CORESense has eliminated this gap."
Whether you're a small retailer with a single store, a multi-channel retailer or an established multi-store, multi-channel retailer, the CORESense Retail Management system delivers the features and functions you need to compete and win in today's competitive and demanding retail marketplace -- and in a delivery model that fits their business and their budget.
The new release is currently in Beta with a specialty retailer and is being implemented by two multi-store chains. It will be generally available early in 2010.
For Further Information Visit http://www.coresense.com, email us at sales(at)coresense(dot)com or call CORESense at (866) 229-2804.
###