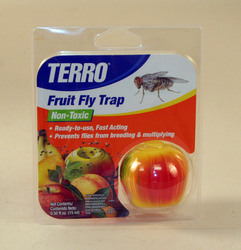 "The key to getting rid of fruit flies is to locate their breeding source and place the TERRO Fruit Fly trap nearby. Look for fruit fly sources in areas where unrefrigerated fruits and vegetables are stored, near garbage cans and recycling bins and und
Saint Louis, MO (PRWEB) December 17, 2009
The fruit fly, one of the smallest flies found in homes, is also one of the most annoying. A familiar problem for most homeowners, fruit flies are commonly spotted swarming around kitchen fruit bowls and near garbage storage areas. Now, TERRO®, an industry leader in pest control products, is making it easy to get rid of irritating fruit flies with the introduction of an effective new product. New TERRO Fruit Fly Traps not only get rid of fruit flies, they are environmentally safe and the apple-shaped trap looks right at home in any kitchen.
"TERRO Fruit Fly Traps are designed to lure adult fruit flies, using a special non-toxic food-based liquid lure," says Stewart Clark, technical director for TERRO pest control products. "Flies that enter the trap can't escape to continue breeding."
Fruit fly populations tend to be greatest in late summer and early fall as they infest fruits during the harvest season. According to Clark, "The key to getting rid of fruit flies is to locate their breeding source and place the TERRO Fruit Fly trap nearby. Look for fruit fly sources in areas where unrefrigerated fruits and vegetables are stored, near garbage cans and recycling bins and under appliances. "
All stages of a fruit fly infestation depend on moist organic debris to complete the fruit fly life cycle. The non-toxic acetic acid found in the TERRO Fruit Fly Trap lures the flies to the traps, thus reducing the infestation. "Within a few days of placing the Fruit Fly Trap near a breeding source, you will see a significant decrease in the number of fruit flies," says Clark. "And homeowners will also appreciate the ease-of-use and attractiveness of the trap itself."
Look for TERRO Fruit Fly traps at your local hardware store or online at http://www.terro.com. The traps retail for about $7.99. For additional information, email Ask the Expert at expert(at)terro.com.
About TERRO
TERRO® is the industry leader in ant control and has been a trusted brand in pest control products for more than 90 years. Based in St. Louis, Missouri, the company offers proven ant and pest control products, including liquid ant baits, aerosol sprays, perimeter granules and ant dust products. TERRO products are widely distributed at all leading hardware, home center, mass merchant, food and drug, farm and fleet and independent garden center retailers nationwide. For more information on TERRO products, call 1-800-837-7644, or visit http://www.terro.com..
###