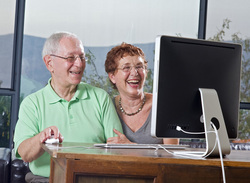 Women over 55 are the fastest growing demographic on Facebook
Carrollton, TX (PRWEB) December 17, 2009
Computer School for Seniors is encouraging sons, daughters and grandkids to share their love, share their photos, share their lives with their parents and grandparents this Christmas by helping them get connected through online services such as Facebook and Skype.
"Women over 55 are the fastest growing demographic on Facebook" according to Justin Smith, founder of Inside Facebook. In addition, a recent study from the Pew Internet & American Life Project showed the biggest increase in Internet use since 2005 can be seen in the 70-75 year-old age group.
"This does not surprise me," said Mimi Witcher, a 66 year old tech-savvy instructor and founder of Computer School for Seniors. "Seniors are flocking to the Internet. I have seen a steady increase in my college classes geared toward seniors. They want to learn how to get connected with family and friends."
Based on this research, the online computer school changed their curriculum on December 16th, just in time for the holidays, to a simple three step process to help their senior students "get connected, explore the world and learn more about their computers."
Along with the new streamlined website, Computer School for Seniors (http://www.CS4seniors.com) is reaching out to sons, daughters and grandchildren to help get their parents and grandparents connected this holiday season with a free gift enrollment to the newly remodeled online campus.
"We want to encourage the more computer-savvy children and grandchildren," said Witcher, "to help their parents and grandparents learn how to use the Internet to stay in touch with friends and family all over the world."
About Computer School for Seniors: Computer School for Seniors is the brainchild of 66-year-old Mimi Witcher who has been teaching computer classes to seniors for the past nine years at Richland College in Dallas, TX. She was honored for her excellence in teaching as the "Teacher of the Year" in 2005/2006. At the request of a 90-year-old student who could no longer attend classes due to health issues, Witcher decided to expand her teaching online. That decision resulted in an expansive virtual campus featuring expert faculty advisors. For more information or to tour the campus, visit http://www.CS4seniors.com
###