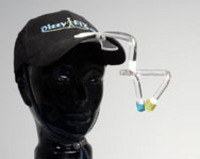 The DizzyFIX has been available to the global market place for over a year now and we are extremely proud to have helped thousands of people who suffer with vertigo in 68 countries in this short time period
(PRWEB) December 16, 2009
The DizzyFIX is the first US Food and Drug Administration cleared medical device for the home treatment of Benign Paroxysmal Positional Vertigo (BPPV). BPPV is one of the leading causes of dizziness which affects as many as 10 per cent of people over age 60. Prospective clinical trials have shown that the DizzyFIX is as effective as physician-guided treatment.
The DizzyFIX was recently featured in the December issue of Reader's Digest magazine where the diagnosis and treatment of dizziness was discussed. "The DizzyFIX has been available to the global market place for over a year now and we are extremely proud to have helped thousands of people who suffer with vertigo in 68 countries in this short time period," said Dr. Alp Sener, COO of Clearwater Clinical.
Clearwater Clinical (Calgary based manufacturer of the DizzyFIX) has been demonstrating steady growth over the past six quarters with the most recent addition of the Warsaw based medical device distributor, EU MED. This marks the 9th new international partnership over the past year. "Our continued growth attests to the worldwide need for proper treatment of BPPV and the utility of this new device", said Sener. "In the current time of economic hardship, the financial burden of costly and ineffective medication to treat BPPV will hopefully become a thing of the past. The DizzyFIX is the most affordable solution for effective treatment of Vertigo due to BPPV."
###