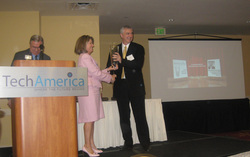 Naples, FL (PRWEB) December 16, 2009
Neighborhood America president and CEO, Kim Patrick Kobza, proudly accepted the 2009 Entrepreneur of the Year Award during a ceremony held last week at the TechAmerica 14th Annual Abacus Awards. The awards highlight high-tech leaders who have made a significant contribution to the technology industry in Florida.
As co-founder, Kobza has led Neighborhood America, a provider of enterprise social media and mobile marketing solutions for public and commercial organizations, through its development and financial growth since 1999. Under his leadership, the company has earned the 2008 and 2009 Software Information Industry Association (SIIA) CODiE Award for "Best Social Networking Solution" and global awards from the Mobile Marketing Association.
"Awards are never individual, they're always team driven," said Kobza during his acceptance speech. "It's a privilege being here in Florida and having the ability to expand throughout the world."
The TechAmerica Abacus Award is the latest in a series of recognitions this year highlighting Neighborhood America staff for their expertise:

Lori Burke, Director of Human Resources, earned several prestigious scholarships from the Society of Human Resource Management (SHRM) Foundation.
Jim Haughwout, CIO and VP of Technology, selected to participate in a roundtable taskforce for the Industry Advisory Council (IAC) IT Dashboard Project, currently used by the Administration and Congress to make budget and policy decisions.
Jason Breed, Senior Account Executive, was named among the "Top Social Media Strategists to Watch in 2010" by the 451 Team.
About Neighborhood America
Neighborhood America (soon to be known as INgage Networks) is an award-winning provider of enterprise social media and mobile marketing solutions for businesses and government agencies. Neighborhood America's SaaS offerings and strategic consulting services help customers build brand loyalty and stronger constituent relationships, create channels for direct feedback, and improve financial performance. With more than a decade of experience, Neighborhood America generates total network value for federal, state and local agencies, as well as many of the world's largest brands, including adidas, Crispin Porter + Bogusky, Kodak Gallery and Microsoft. Awards include the 2009 and 2008 SIIA CODiE Award for "Best Social Networking Solution" and the global Mobile Marketing Award for "Best Use of Marketing, Cross-Media integration." Visit http://www.neighborhoodamerica.com/.
About TechAmerica
TechAmerica is the leading voice for the U.S. technology industry, which is the driving force behind productivity growth and jobs creation in the United States and the foundation of the global innovation economy. Representing approximately 1,500 member companies of all sizes from the public and commercial sectors of the economy, it is the industry's largest advocacy organization and is dedicated to helping members' top and bottom lines. It is also the technology industry's only grassroots-to-global advocacy network, with offices in state capitals around the United States, Washington, D.C., Europe (Brussels) and Asia (Beijing). TechAmerica was formed by the merger of AeA (formerly the American Electronics Association), the Cyber Security Industry Alliance (CSIA), the Information Technology Association of America (ITAA) and the Government Electronics & Information Technology Association (GEIA). Learn more at http://www.techamerica.org.
###