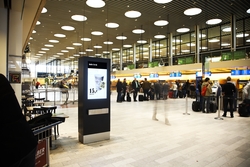 "It is now more important than ever to market our products with maximum impact," said Flemming Christophersen, marketing manager at SSP Denmark. "We expect that this digital signage solution will do just that."
Copenhagen, Denmark (PRWEB) December 16, 2009
Food service giant Select Service Partner (SSP) recently deployed new technology in an effort to attract more customers to its seven food and beverage stores at the Copenhagen Airport. SSP has experienced declining sales at the airport, presumably a result of the airport's 6.9% drop in passenger traffic since the international financial crisis began.
SSP's new digital signage solution provides more efficient opportunities to manage marketing campaigns, pricing and sales according to customer flow and other variables at multiple stores. A test of product spots in two of the airport stores has already shown an increase in ROI.
SSP deployed 33 high-resolution Samsung screens and 14 Scala digital signage Players in compliance with the airport's strict standards of design aesthetics. The system was installed by Scala Certified Partner Web 500, a Denmark-based operator that already operates digital signage in SSP's Danish Monarch and Domino's Pizza restaurants. Web 500 designed a system that supports all of the stores' different brand identities, menu items and local preferences, as well as dynamic marketing campaigns across all stores.
"It is now more important than ever to market our products with maximum impact," said Flemming Christophersen, marketing manager at SSP Denmark. "We expect that this digital signage solution will do just that."
For more information, please visit http://www.scala.com/news/studies/select-service-partner-ssp.
About SSP
SSP has more than 40 years of experience serving the traveling consumer. SSP operates at over 400 sites at airports, railway stations and motorway service areas principally in the UK, Continental Europe and Asia. It has operations in some 25 countries, with the greatest concentration of business in the UK, France, Spain, Germany and the Nordic region. Visit http://www.foodtravelexperts.com for more information.
About Scala
Driving more than 300,000 screens worldwide, Scala is a leading global provider of digital signage and advertising management solutions. Scala is the world's first connected signage company, offering the leading platform for content creation, management and distribution in digital signage networks and the first unified platform for advertising management of both traditional and digital signage networks. The company's digital signage customers include Rabobank, IKEA, Burger King, T-Mobile, Virgin MegaStore, Warner Brothers, The Life Channel, Rikstoto, Repsol, NorgesGruppen, Audi, ECE Flatmedia, Kaufhof (Metro Group) and thousands more. Advertising management customers include CBS Outdoor, Clear Channel Outdoor and Magic Media, among others. Scala is headquartered near Philadelphia, USA, and has subsidiaries in Canada, The Netherlands, France, Norway, Germany and Japan, as well as more than 450 partners in more than 60 countries. More information is available at http://www.scala.com.
©2009 Scala, Inc. 350 Eagleview Blvd. Exton, PA 19341. Scala and the Exclamation Point Logo
###