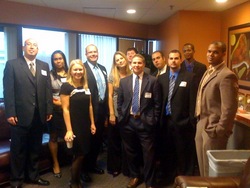 "I'm so glad we were able to give our time and resources to such an important organization. We were able to make a real difference."
Raleigh, NC (PRWEB) December 16, 2009
4Fifty8 Acquisitions, a leading sales and marketing firm, announced that it recently participated in and donated $250 to the second annual Bob's Buddies Radiothon, a fundraiser for The Pediatric Brain Tumor Foundation. Team members from 4Fifty8 Acquisitions collected more than $10,000 during a three-hour period on the phones.
The 12-hour marathon's goal was to raise money for the Pediatric Brain Tumor Foundation, a non-profit organization dedicated to supporting the search for the cause of and cure for childhood brain tumors.
"Our goal in volunteering for the event was to provide a high energy and motivated environment for collecting money over the phone during the radiothon," said President Joseph Tanksley. "My team gave selflessly of their time and money, and I couldn't be more proud."
4Fifty8 Acquisitions decided to participate in Bob's Buddies because many staff members listened to the Bob's Buddies morning show and felt it was important to support The Pediatric Brain Tumor Foundation.
"I'm so glad we were able to give our time and resources to such an important organization," Joseph Tanksley said. "We were able to make a real difference."
About 4Fifty8 Acquisitions
4Fifty8 Acquisitions, Inc. works with a diverse portfolio of Fortune 500 clients. As a promotional marketing firm, 4Fifty8 Acquisitions specializes in tailoring campaigns specifically to the needs of clients. For more information, contact Joseph Tanksley at (919) 713-0329 or log on to http://www.4fifty8.com.
###