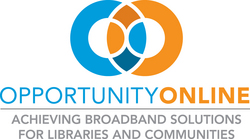 California's public libraries are blazing a trail for those Californians who lack adequate access to high-speed Internet
Sacramento, CA (Vocus) December 16, 2009
Library, community, and state leaders convene to discuss strategies to improve and sustain high-speed Internet access for communities through public libraries.
The California State Library assembled nearly 200 public library leaders, community supporters, broadband providers, and local and state leaders for California's Opportunity Online Broadband Summit, on December 14 -15, 2009, in Sacramento to discuss how to improve and sustain quality Internet access in California public libraries.
The California Opportunity Online Broadband Summit highlighted the importance of community partnerships and the opportunities that technology can provide. Summit participants brainstormed and discussed possible solutions and action steps to upgrade and sustain broadband connectivity in California public libraries to meet patron demand.
Currently, 31 California public library systems lack Internet connections fast enough to meet the basic needs of patrons. Many more report speeds that are inadequate to meet the true demand of their community.
The California summit was sponsored by the Bill & Melinda Gates Foundation as part of its pilot Opportunity Online broadband grant program. California, along with six other states, was invited to participate. The grant program supports public libraries as they seek to improve their broadband connectivity and calls for a broadband sustainability strategy, to be developed by the California State Library, to ensure that public libraries continue to improve and maintain adequate connectivity for patrons.
The summit included a comprehensive analysis of California's current broadband climate and the future of technology access in California public libraries. Graham Richard, former mayor of Fort Wayne, Indiana and partner of public libraries, highlighted the importance of public and private partnerships on the local and state level to prioritize funding for improved connectivity in public libraries. State and library leaders from across California addressed the status of connectivity in the state. Speakers included: Linda Crowe, executive director of the Pacific Library Partnership; California Public Utilities Commissioner Rachelle Chong; Sunne McPeak, president and chief executive officer of the California Emerging Technology Fund; Teri Takai, chief information officer for the state; and California's secretary of education Glen Thomas. Technology futurist Tim O'Reilly reflected on the future of technology in libraries.
Stacey Aldrich, California's newly named state librarian, led the summit and represented the California State Library.
"California's public libraries are blazing a trail for those Californians who lack adequate access to high-speed Internet," Aldrich said. "Today's public libraries continue to provide traditional services, but a growing number of patrons depend on library Internet access to apply for jobs, further their education, run businesses, or stay connected with families and friends. This summit and grant program will help California public libraries meet these increasing personal and community needs better by improving library connection speeds."
Building on dialogue and ideas generated at the summit, the California State Library is currently working with an advisory group to develop a strategy to increase and sustain broadband connections in all California public libraries. The California State Library will work with libraries across the state to support their Internet connectivity upgrade and create a long-term state sustainability strategy.
"The summit highlights the vital role libraries play in connecting communities to information and knowledge through technology," said Jill Nishi, deputy director of U.S. Libraries at the Bill & Melinda Gates Foundation. "What is needed now is long-term collaboration among government, business, communities, and library leaders to ensure that public libraries can continue to provide the high-speed Internet access their patrons need to improve their lives and thrive."
Connected Nation worked closely with the California State Library to support the event development and execution. For more information about the California Opportunity Online Summit, please go to http://www.opportunityonline.org or contact us at 1-866-882-3081 or casummit(at)opportunityonline(dot)org.
About the Bill & Melinda Gates Foundation
Guided by the belief that every life has equal value, the Bill & Melinda Gates Foundation works to help all people lead healthy, productive lives. In developing countries, it focuses on improving people's health and giving them the chance to lift themselves out of hunger and extreme poverty. In the United States, it seeks to ensure that all people—especially those with the fewest resources—have access to the opportunities they need to succeed in school and life. Based in Seattle, the foundation is led by CEO Jeff Raikes and co-chair William H. Gates Sr., under the direction of Bill and Melinda Gates and Warren Buffett. More information is available at http://www.gatesfoundation.org.
About the California State Library
Founded in 1850, the California State Library is the central reference and research library for the Governor's office, state legislature, statewide elected and appointed officials, state employees, and the general public. It also advises, consults with, and provides technical assistance to California's public libraries. The State Library administers federal and state grants that support statewide programs and services including civil liberties education, historical preservation, library construction, connectivity, literacy and volunteer programs.
About Connected Nation
Connected Nation is a national nonprofit 501(c)(3) organization that expands access to and use of broadband Internet and the related technologies that are enabled when individuals and communities have the opportunity and desire to connect. Connected Nation effectively raises the awareness of the value of broadband and related technologies by developing coalitions of influencers and enablers for improving technology availability and use. Connected Nation works with consumers, community leaders, states, technology providers, and foundations, including the Bill & Melinda Gates Foundation, to develop and implement technology expansion programs with core competencies centered around a mission to improve digital inclusion for people and places previously underserved or overlooked. Connected Nation is also working with technology leaders to implement Every Citizen OnlineSM, a public-private partnership program to enable computer ownership and broadband use in low-income and unconnected homes. For more information about Connected Nation, visit http://www.connectednation.org.
###