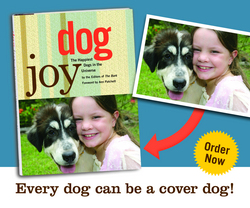 "What an uplifting, beautiful, funny and tremendously cute collection of portraits of our very best friends giving us their very best faces. Incredible! Adorable!" —Margaret Cho, Comedian
Berkeley, CA (PRWEB) December 17, 2009
Do dogs smile? Well, for the past eight years, editors of the pre-eminent dog magazine, The Bark, have been amassing a phenomenal photo collection of dogs doing what they do best: bringing joy and happiness to their humans. And now, in collaboration with Rodale Books, they've made their collection available to everyone in their new book, DogJoy: The Happiest Dogs in the Universe. With over 500 photos proving that dogs do indeed smile, grin, giggle, laugh and even snicker, this book has become the sure hit of this holiday season. DogJoy assembles the best of the pack—selected from thousands of photos that have been submitted to The Bark's Smiling Dogs Contest, a perennial reader favorite.
And now, just in time for the holidays, every dog can be a cover dog! To make DogJo y even more memorable, The Bark is offering customized covers—instant family classics. They're affordable and easy to order, and uploading the photo is a snap! View examples of some of the covers that have already been created—be inspired and order yours today.
Claudia Kawczynska, Bark's co-founder and Editor-in-chief as well as its lead photo "curator," has been asked what makes a photo Smiling Dogs-worthy. In choosing the photos that appear in the magazine, online and in DogJoy, she looks for candidates in a wide array of smile and personality types. For example, in DogJoy's Jokers chapter, there are dogs with an inside track on perfect comedic timing. The Sweeties are the cuddly pups who bring out the giggles and the "oohs and aahs" in their people. Laughers' mouths are wide open—their expressions are sure to inspire a smile even from cat people. The Sincere and Earnest dogs have honest hearts and a capacity for joy shining through their smiles. Grinners are unmistakable—the memory of a dog's grin lingers long after her tail stops wagging. Some of the favorite photos are of young children embracing their first friend—both of whom are beaming with the pleasure of their shared company. And not to leave anyone out, there are those who garner an A for Effort, the smilers-in-training and those who prove that the reward is in trying.
Many of the smilers in DogJoy are rescued pups, underscoring the bounty of wonderful, adoptable dogs awaiting rehoming across the nation and around the world—among them, dogs from every state, Puerto Rico's Save a Sato project, Soi Cats and Dogs in Thailand, and a dog rescued from Michael Vick's kennels. All are much-loved family dogs now, ready to share their joy with the world.
Award-winning author Ann Patchett contributes a lovely foreword in which she directs the reader to "look at these dogs squirming and rolling and leaping and laughing and let them do what dogs do best: give us an effervescent dose of wordless euphoria." What better gift could there be this holiday season! For as l ow as $35, a subscription to the award-winning Bark plus DogJoy with a customized cover.
###