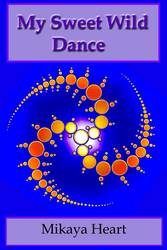 A wonderfully courageous life story told in a free-flowing style that is easy to read.
San Francisco, California (PRWEB) December 17, 2009
New release, in the running for a 2009 Lambda Literary Award
Written with searing honesty, this is the true-life story of an extraordinary Scotswoman.
My Sweet Wild Dance by Mikaya Heart. http://www.mikayaheart.org
This autobiographical book is about daring to be different. The author's journey takes us from the impoverished aristocracy of post-war Scotland, through experiments with drugs, free love, and anti-establishment politics, to adventurous travels all over the world. Always on the cutting edge, she was active around environmental issues decades before the mainstream. Disillusioned by the sexism in Britain, she turned to Nature for solace, moving to rural California, where she engaged in healing work around her sexuality, worked as a Jill-of-all-trades, ran an organic farm, and came out as a lesbian. At the age of fifty, a series of inexplicable experiences led her to take up a life of kitesurfing, and she became the woman who follows the wind.
Mikaya Heart knows how to dance her own sweet, wild dance, and she offers us a compelling picture of the agony and ecstasy that are the rewards of choosing one's personal truth. The path she has forged through the jungle of life is an inspiration--and a delightful read
Ms Heart is the author of books on lesbianism, shamanism, and orgasm, as well as a number of articles. Because of the varied and exciting life she has led, Ms Heart is able to talk intelligently on a number of subjects, from being gay to living green. She has been featured on many radio shows, including the Marc Bernier Show, the Big Morning Show, the Takeaway, and the Lionel Show.
For further information contact Ray Robinson at DogEarPublishing, or contact the author directly.
My Sweet Wild Dance
Mikaya Heart
Dog Ear Publishing
ISBN: 978-160844-070-2 252 pages US
# # #