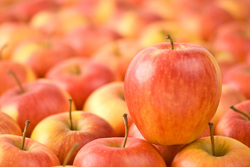 Piñata is similar to a fine wine in that the flavor and texture of the apple get better over time
Wenatchee, Wash. (PRWEB) December 17, 2009
As America rings in 2010, foodies and health nuts alike will celebrate more than just the New Year. Stemilt, one of the growers responsible for introducing us to the fall apple sensation SweeTangoTM, is coming through with another hit - the Piñata apple. With its high sugar and acid levels, this new niche variety's classic apple flavors are accompanied by a tropical twist and satisfyingly juicy crunch. 2010 marks the first time the heirloom varietal will be available broadly throughout the United States.
Sure to please even the most discriminating palate, Piñata apples thrive in Washington's ideal growing conditions. Piñata is picked exclusively by Stemilt in October, during the middle of Washington's apple harvest, yet remains in storage beyond the autumn months in order to reach its peak.
"Piñata is similar to a fine wine in that the flavor and texture of the apple get better over time," said West Mathison, president of family-owned Stemilt Growers. "Its key traits intensify in cold storage, making January the ideal time for consumers to experience Piñata at its best."
"And for those who weren't able to take a bite out of new SweeTango apples last fall due to their limited distribution, they shouldn't have a problem finding Piñata. Stemilt is working with its retail partners across the country to make sure there are plenty of Piñata apples on produce shelves in 2010," added Mathison.
European Heritage
This unique new apple is a cross between Golden Delicious, Cox's Orange Pippin and the Duchess of Oldenburg varieties. A European favorite under the names Pinova or Sonata, the Piñata is a result of nearly two decades of development at the apple-breeding program in Dresden-Pillnitz, Germany. It was selected as the 2001 Apple of the Year in Germany.
Recognizing they found a fruit treasure well suited for the Washington climate, Stemilt Growers purchased the exclusive rights to grow and market this new apple in the United States and changed the name to Piñata to better highlight the apple's stimulating attributes.
Beyond the Bite
Piñata is one of the most versatile apples available and is able to withstand a diverse array of culinary conditions. For those looking to make healthier resolutions in the New Year, it's great in salads, as it resists browning when sliced; and, of course, Piñata makes a satisfying snack option all on its own. With characteristics like a thin skin and crisp texture, Piñata adapts well to cooking temperatures, making it an ideal apple for both baking and poaching.
Chef Jason Wilson of CRUSH, a popular restaurant in Seattle can attest. "Crush only uses the finest ingredients, and Piñata is incomparable to any other apple in quality and versatility," said Wilson. "The fantastic flavor and striking appearance make it the preferred apple for our menu."
Using Piñata, Wilson has created flavorful combinations such as the Piñata Apple, Bacon and Blue Cheese Tart, Grilled Pork Belly and Apple Strudel, and Piñata Salad with Apple and Sage. Recipes are available at http://www.PinataApple.com, where additional information on Piñata and Stemilt Growers can be found. Also follow Piñata on Facebook at http://www.facebook.com/PinataApple.
About Stemilt
Stemilt Growers, Inc. is a leading tree fruit growing, packing and shipping company, owned and operated by the Mathison family. Based in Wenatchee, Wash., Stemilt is the nation's leading shipper of sweet cherries and one of the largest suppliers of organic tree fruit. As an early adopter of a sustainability program, Stemilt is recognized by the agricultural community as a leader in sustainable farming practices. Stemilt also is a member of Next Big Thing, A Growers' Cooperative responsible for introducing the SweeTango™ apple.
# # #