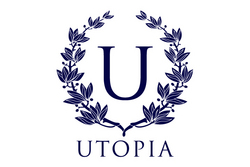 UTOPIA will have the most luxurious ocean going home ever seen.
Beverly Hills, CA (PRWEB) December 16, 2009
Prudential Douglas Elliman is pleased to announce their selection as Exclusive US Sales Agent for the 200 private residences onboard Utopia, a residential ocean liner poised to be the most luxurious ship in existence. Utopia residents will become true "citizens of the world," and enjoy a lifestyle of unparalleled comfort and adventure as they travel the globe in pursuit of legendary cultural and sporting events. Utopia also distinguishes itself with its philanthropic mission to host humanitarian events in port cities around the world.
The 200 residences are a mix of two- to five-bedroom homes ranging in size from 1,400 to 6,611 square-feet, each boasting its own private terrace. Homes feature fully furnished, elegantly designed interiors and open kitchen layouts, the likes of which have never been seen on an ocean liner. The astounding views from each unique oceanfront home will change with every exciting new destination.
"Utopia is unlike any other residential listing in the world, and it offers a completely unprecedented living experience," said Howard Lorber, Chairman of Prudential Douglas Elliman. "The opportunity to see the world's most fantastic sights from the comfort of one's own home is truly rare and exceptional. Utopia will have the most luxurious ocean-going homes ever seen."
"We are thrilled for our company to be involved with such a high-caliber and incredibly unique residential project," added Dottie Herman, President & CEO of Prudential Douglas Elliman. "It's an interesting opportunity for us to partner with professionals from the travel and hospitality industries, and to interact with buyers from all over the world who are seeking a global community and an unmatched lifestyle of luxury, culture, and style."
A residential project like no other, the massive 971-foot ocean liner is designed by some of the shipbuilding industry's most renowned architects, designers, and engineers. Utopia itself will be a center of activity, touting an abundance of world-class amenities including a 204-room boutique luxury hotel, casino, spa, theater, night club, swimming pools, marina, signature restaurants and private residents' club. The ship's event-driven itinerary will bring her owners on a life-changing tour of spectacular and exhilarating cultural and sporting events such as the Cannes Film Festival, Monte Carlo Grand Prix, The Olympics, Carnaval in Rio, Hong Kong Dragon Boat Festival, Melbourne Cup, Wimbledon and other worldwide events of international acclaim. Utopia's fabulous itinerary will continually bring residents to the greatest cultural epicenters of the world.
Developed with luxury and customized service in mind, everything a resident could need or want is accessible onboard Utopia with the help of the world's finest concierge professionals. An array of high-end services includes a photographer, videographer, art historian, and personal shopper; assistance with travel and transportation requirements to and from the ship via water taxi, limousine or chartered helicopter; event planning for personal events from weddings to intimate private dinners; a qualified medical team; an "Enrichment" series of onboard lectures by Ivy League professors and world educators, round table discussions, political summits, and humanitarian meetings; and a fully-equipped business center.
Samsung, the number one shipbuilder in the world for complex vessels, announced to the world press on December 1st, its agreement to build UTOPIA. Samsung will draw upon a team of up to 400 engineers to construct the ocean liner and are planning to complete the ship construction and delivery in 2013.
According to Steve Cid, Senior Vice President at Elliman and Director of Sales for UTOPIA, Prudential Douglas Elliman will now begin offering residences for purchase onboard the ocean liner in New York City at PDE's flagship office at 575 Madison Avenue, 3rd floor and PDE's Gallery Office at 980 Madison Avenue. In Beverly Hills, prospective owners can visit the spectacular Utopia showroom at 421 N. Rodeo Drive which houses full-scale sample interiors of the residences that will be constructed on the ship. Prospective buyers will have the opportunity to meet with the ship's designers and architects including famed Captain Ola Harsheim, UTOPIA's SVP of Shipbuilding and Operations to discuss the customization of their homes.
For residence purchase information, please contact Steve Cid, Director of Sales, at 212- 303-5222, scid(at)elliman(dot)com, or Kerry Fedigan-Cid at 212-702-4022, kfedigancid(at)elliman(dot)com.
For more information including deck plans and sample itineraries, please log on to http://www.utopiaresidences.com.
Prudential Douglas Elliman Real Estate is New York's largest residential brokerage, with over 60 offices, more than 3,800 real estate agents and a network of national and international affiliates. Prudential Douglas Elliman ranked in the top four of all real estate companies in the nation in 2007 and 2008, and was recently ranked #1 in the nationwide network of Prudential Real Estate Affiliates. The company also controls a portfolio of real estate services, including Manhattan's largest residential property manager, Douglas Elliman Property Management, as well as PDE Title and DE Capital Mortgage.
For more information on Prudential Douglas Elliman as well as expert commentary on emerging trends in the real estate industry, visit the Prudential Douglas Elliman site at http://www.prudentialelliman.com.
CONTACT: Barbara Wagner/Nancy Raia
Rubenstein Associates
(212) 843-8035/ (212) 843-9331
bwagner(at)rubenstein(dot)com /nraia(at)rubenstein(dot)com
Hayley Rush
Prudential Douglas Elliman
212-891-7035
hrush(at)elliman(dot)com
CONTACT: UTOPIA RESIDENCES
Media Relations Department
(315) 294-5031 or (310) 270 4777
info(at)utopiaresidences(dot)com
###